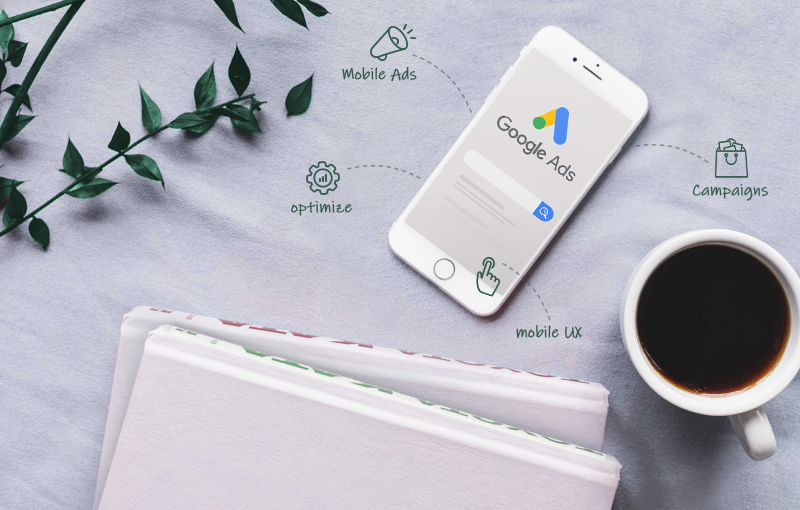 In the past months, we've published 5 blog posts dedicated to Google Ads:
Today, we'll talk about creating mobile-friendly Google Ads campaigns (and ways to optimize your existing ads for mobile).
Overview
About mobile ads
Mobile ads appear on smartphones and tablets - either on the SERPs or within apps. As a result, mobile ads allow you to reach customers wherever they are - at home or on the go. Note: Currently, mobile ads don't appear on wearables (such as smart watches).
There are several types of mobile ads: text ads, image ads, app promotion ads, and call-only ads. Here's an example of a mobile text ad:
The ad headlines and descriptions fit perfectly on the screen of a mobile device. The ad contains sitelinks and provides additional information about Kave Home's winter sale - "Up to 50% off Limited stock! Valid 2 Jan - 28 Feb". So, there is an incentive. Let's see what happens when we click on the "Winter Days" sitelink.
We land on a mobile-friendly page - the header menu is intuitive and easy to navigate on a small screen. Also, there is a responsive banner with a bold and clear CTA (call to action). Next, we can learn more about the promotion that drove us to the website - what is included, how we can combine it with other products, and more. There's another button with a straightforward CTA - "View all." Below the button, there's a carousel of relevant and recent product reviews (which boosts credibility and can easily lead to a higher conversion rate).
All in all, the landing page is perfectly optimized for mobile - the design is responsive, the content is easy to read and view, and the website navigation is seamless. All this is important because having a mobile-friendly website is essential to running successful mobile ads. We'll talk about this in more detail below. But first, let's have a look at why you should be running mobile-friendly ads.
Why is it important to optimize your Google ads for mobile?
First, over half of all internet traffic - approximately 51% - can be attributed to mobile devices. Desktop traffic accounts for 46.39%, and 2.74% of searches happen on tablets (source: telemedia online and statista).
Second, since smartphones and high-speed internet have become extremely accessible in the past years, m-commerce (or mobile commerce) is on the rise.
Third, mobile searches suggest a higher buying intent (source: AdEspresso).
So, what does this have to do with mobile ads, you may ask. It's simple - an increase in mobile usage, especially for completing transactions, requires you to deliver a seamless shopping experience across all devices (e.g., PCs, laptops, smartphones, and tablets). This includes all stages of the buyer's journey - from research and consideration to discovery and checkout.
Imagine the following scenario - in the midst of the pandemic, John's vacuum cleaner breaks. He has two large hairy dogs, so he needs to buy a new one ASAP. He's going through a hectic time at work and he doesn't have much time to do research. So, during his lunch break, he opens the browser on his phone and types "vacuum cleaner on sale". He sees an ad with a "Clearance Sale" sitelink:
The description is encouraging - "Over 20 Years Of Experience", "Quality Home Products", "Free Shipping", and "Easy Returns". So, he clicks the ad, and, since the website is easy to use on mobile, he buys a vacuum cleaner.
This is a very simple example - as a Shopify store owner, you know that a buyer's journey is usually more complex. However, it illustrates the point - a buyer's journey goes through several stages: need > research > discovery > website > purchase. At least half the time, all this happens on a smartphone or a tablet. This is why it's important to run mobile-friendly ads and have a mobile-friendly Shopify store. Next, we'll share some helpful tips on how you can optimize your Google ads for mobile.
8 ways to optimize your Google ads for mobile
Tip 1: Optimize your Shopify store for mobile.
Did you know that nearly one third of smartphone users will immediately switch to another website if yours doesn't satisfy their needs? In fact, 64% switch because there are too many steps or they can't find the information they're looking for. In other words, if your landing pages aren't mobile-friendly, you're losing customers and sales. (Source: Google)
Creating mobile-friendly ads with mobile-specific ad copy is useless if you can't provide a stellar landing page experience on mobile.
Why? Because the landing page is where ad clicks turn into purchases. If the landing pages aren't easy to navigate and use on mobile devices, customers are less likely to convert. So, simply put, not optimizing your website (and its individual landing pages) for mobile means missing out on a number of sales opportunities. Not to mention that all the effort you've put into creating mobile-friendly ads might not pay off.
Aside from optimizing your pages for mobile, you also need to make sure they match your ads. For example, if the ad copy promises customers a 50% discount on spring jackets, customers should land on a category page that features discounted spring jackets. Or, if you advertise a specific product, the ad should lead people to the according product page. Also, any special offers should be prominently displayed on the landing page (for example, in a responsive banner).
Moreover, your landing pages should mirror the CTAs in your ads, i.e., if the CTA is "Order Now!", your ad should lead people to a product page (where they can easily purchase the product in the ad).
To optimize your Shopify store for mobile, you need to:
1 Choose a responsive theme that looks good on different devices - responsive design is key to your mobile performance. View mobile-friendly Shopify themes
2 Your primary and secondary navigation should look good and function properly on mobile. Use hamburger menus to save space and ensure seamless and intuitive navigation on mobile. Learn more about structural SEO for Shopify and creating a mobile-friendly website architecture → How to Create an SEO-friendly Website Architecture?
3 Be mindful of the amount of text on your pages. The less text a page contains, the better it looks on mobile. So, when optimizing your product pages for mobile, focus on sharing only essential information. Proper formatting is also important. Let's have a look at a product page that I find extremely easy to use on mobile.
The first thing we see is a photo carousel featuring 5 professional photos that showcase the product from different angles.
Scrolling down, customers can choose the size they wish to order. Notice how easy it is to choose a size for both items - it takes just two taps. There are no drop-down menus to slow down and complicate the mobile shopping experience.
Next, we see the price of the selected items and a big, bold "Add to bag" button. Customers can easily choose to view the product in a different color, check the Size Guide, view Care Instructions, and information on Delivery & Returns - all this facilitates the buying decision and improves the shopping experience.
Also, they can view a short product description. If they wish, they can expand it and view further details.
Notice that the content is perfectly formatted for a mobile screen - a short paragraph describing the product, followed by a bullet list of its most prominent features, and more information on the fabric, the size the model wears, and her measurements (including this type of information is important because it gives customers context and a better idea of which size would be the best fit for them).
4 Let visual content "do the talking." Remember the photo carousel on the Melissa Odabash product page. But also, let's have a look at one of Net-a-Porter's category pages:
The focus of the page is on the product images; there's a minimum amount of text. This makes it extremely easy for customers to browse the category and click the product that catches their eye. The design is simple, clean, and sophisticated. This increases engagement and improves the shopping experience - what more could you possibly want?
5 Leverage CTA buttons. Take a look at these two buttons:
They are big, bold, and clear - this is your goal in terms of mobile-friendly CTA buttons. Also, Farfetch has decided to display the "Add to bag" button at all times, making it even more convenient and user-friendly.
6 If needed, optimize your site speed - having a fast-loading website is an essential component of mobile optimization.
7 Use Google's Test My Site to see how your website performs on mobile devices and find out what you can improve.
Tip 2: Upgrade to expanded text ads.
Expanded text ads are available on the Google Search Network and the Google Display Network. They have three headline fields. The first two headline fields are required, the third one is optional. They also have a second description field, and the display URL can contain two optional "Path" fields. Also, ad extensions are fully compatible with expanded text ads. But, most importantly, expanded text ads are designed for optimal performance on mobile. In fact, the third headline appears most often on widescreen mobile devices.
To upgrade your existing ads to expanded text ads, sign in to your Google Ads account > Click "Ads" (left sidebar menu) > Go to the ad you wish to edit > Click the pencil icon > Enter a final URL, a third headline, a second description, and text in the two optional "Path" fields > Click "Save ad."

When writing the ad copy for your expanded text ads, follow the best practices for writing effective mobile ads. Namely:
Write compelling, straightforward, and benefit-oriented headlines. If possible, include relevant keywords.
Use your second description to highlight your key USPs (unique selling points). In other words, if applicable, include phrases like "Quick Shipping," "Next-Day Shipping," "Free Shipping," "Easy Returns," "100% Handmade", "100% Recyclable", "Ethically Made," and more.
Write clear and strong CTAs (e.g., "Buy Now," "Place An Order Today," "Order Now," "Request A Quote Now," etc.
Create multiple ad variants.
Tip 3: Use mobile-friendly ad extensions.
Ad extensions allow you to include additional business information in your ads. As a result, they make your ads more appealing and enticing (which leads to higher CTR). Ad extensions come at no extra cost and can significantly improve your ads' performance (both on desktop and mobile devices). So, you should definitely take advantage of them!
Three extensions, in particular, can improve your ads' performance on mobile:
Sitelinks. Your ad can lead potential customers to only one landing page. However, if you add sitelinks, your ad will contain links to other key pages in your store. Have a look at this Net-a-Porter's ad - it contains 4 sitelinks: "Winter Sale Up to 80% Off", "Today's New Arrivals," "The Easy-Chic Dress," and "New-Season Dresses."
Sitelinks allow customers to easily navigate your site and reach more pages that can directly impact your bottom line. Keep in mind that you need to create at least two sitelinks and attach them to your account, Google Ads campaign, or a specific ad. Mobile ads must contain at least one sitelink.
You can easily add, edit, and schedule sitelinks extensions. You can also set up device preferences for sitelink extensions. Learn more about creating sitelinks → Sitelinks
Location extensions. Adding a location extension to your ads can benefit you if you have a physical store, as it will drive foot traffic your way (also, you have higher chances of ranking for all the "near me" searches). This is how location extensions look:
The best part about location extensions is that they're clickable, i.e., customers can easily get directions to your brick-and-mortar store (in Google Maps). Learn how to add and use location extensions → Location extensions
Call extensions. You can use call extensions to display your business phone number in your ads. In this way, customers can easily contact your support if they have any questions. All in all, call extensions allow you to deliver a more informed shopping experience and boost your credibility. This is how call extensions look:
Similar to location extensions, call extensions are clickable, which means that customers can contact you at the click of a button. Convenient, right? Learn how to add and use call extensions → Call extensions
Tip 4: Set up mobile-specific targeting.
If you don't optimize your ads for mobile-first keywords (i.e., queries that are searched more often on mobile than on desktop devices), you may miss out on many sales opportunities. Simply put, your customers' search queries vary depending on the device they're using - searching for something from the comfort of your home is different from searching for said product while you're on the go. This is especially true in terms of wording and abbreviations - mobile search queries are typically shorter, more informal, and contain more abbreviations than desktop search queries. Therefore, it doesn't make much sense to bid on the same keywords for both desktop and mobile devices.
To find mobile-first keywords:
Check your Search Terms report tab to get insights from your current Search campaigns. To view your Search Terms report, log in to your Google Ads account > Reports (header menu) > Predefined reports (Dimensions) > Basic > Search terms.
The Search terms report will give you information about the search terms you're currently bidding on, their match types, as well as clicks, impressions, CTR (click-through rate), Avg. CPC (average cost per click), cost, conversions, and more.
To get more precise data, you can segment your traffic by device. In this way, you'll be able to easily compare the impressions / clicks / CTR / etc. on Desktop and Mobile for your top-performing keywords. To segment your traffic by device, click Targeting (right sidebar menu) > Device.
You'll notice that some keywords may perform better on mobile devices (e.g., they drive significantly more clicks and impressions) - these are some of your mobile-first keywords. So, you may want to move them to a different campaign, monitor their performance, and adjust your bidding strategy. You can also create ads with mobile-specific copy and customized CTAs.
Of course, you should constantly add new (and relevant) mobile-first keywords to your list - the freshness of your list is key to the success of your campaign. Learn more → Find Your Mobile-First Keywords
Tip 5: Leverage the Auction Insights report.
The Auction Insights reports will show you how your Search and Shopping campaigns are performing compared to the campaigns run by other advertisers participating in the same auctions as you. In this way, you can easily understand what you're doing right and what you can improve in terms of performance and bidding.
The Auction Insights report for Search campaigns provides impression share, overlap rate, position above rate, and top of page rate. You can generate a report for keywords, ad groups, and campaigns. The Auction Insights report for Shopping campaigns provides only impression share and overlap rate. You can generate it for ad groups and campaigns. In all cases, you can segment your results based on time and device.
To view the Auctions Insights report for a specific campaign, log in to your Google Ads account > Click "Campaigns" (left sidebar menu) > Mark the checkbox next to the campaign you want to generate the report for > Click "Auction Insights."
The process is identical for keywords and ad groups.
You can filter your auction insights by clicking the filter icon above your statistics table (and choosing a filter to apply).
Learn more → Use Auction Insights to compare performance
Tip 6: Set mobile bid adjustments.
You can set device bid adjustments to adjust the bids when your ads appear on different devices (e.g., desktop computers, tablets, and mobile devices). In other words, you can bid higher for impressions on mobile devices. You can specify the adjustment at the campaign level or the ad group level.
You can enter a value from -90% to +900%. Note that if you enter a value of -100% for a specific device, you'll opt out of said device for the selected campaigns or ad groups.
Learn more about device bid adjustments → Set device bid adjustments for ad groups or campaigns
Tip 7: Use ad customizers.
Ad customizers are parameters that get replaced by dynamic text when your ad is triggered by a keyword. Customizers fill in your ad text with ad customizer data (that you upload as a spreadsheet to Google Ads). Ad customizers can insert any type of text - e.g., discounts, branded and non-branded keywords, location-specific pricing, product availability, CTAs, and more.
In other words, including ad customizers will adapt your text ads to your customers' search queries depending on their device type (e.g., desktop or mobile), location, and time (from date and day of the week to a specific time of the day). In this way, you're able to create more personalized and relevant mobile ads. For example, you can add mobile-specific ad copy, create multiple text variations (so that you can see what works best for you), and gain access to helpful insights (so that you can improve your ads' performance). Learn more → About ad customizers & Set up ad customizers
Tip 8: Constantly review and improve your mobile strategy.
Well, this is pretty much common sense, but don't forget to monitor the performance of your mobile ads - see what works for your brand and what can be improved. Constantly adjusting your strategy is the only way to ensure your success.
Conclusion
Today, we talked about creating mobile-friendly Google ads (and optimizing your existing ads for mobile). To achieve this, you need to:
Have a mobile-friendly Shopify store
Upgrade to expanded text ads (and write mobile-specific ad copy)
Use mobile-friendly ad extensions (e.g., sitelinks, location extensions, and call extensions)
Set up mobile-specific targeting, i.e., optimize your ads for mobile-first keywords
Leverage the Auction Insights report
Set mobile bid adjustments
Use ad customizers
Constantly review and improve your mobile strategy

If you have further questions or want to share your own experience with creating mobile-friendly ads, just leave a comment below!