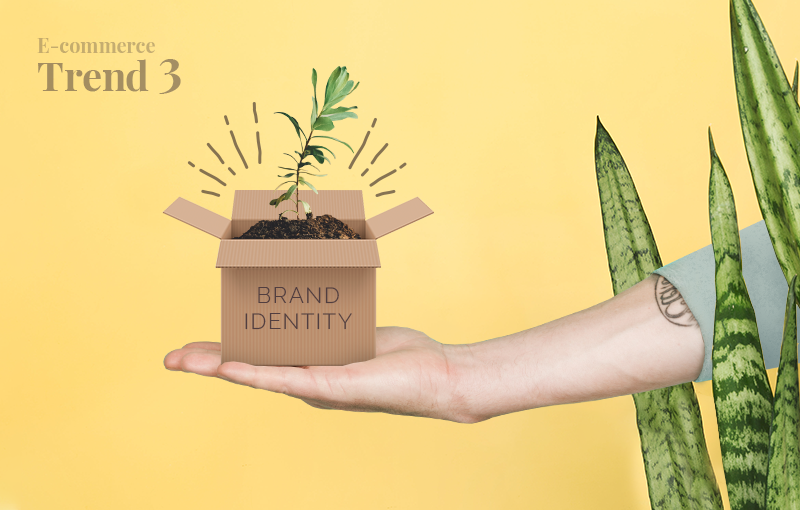 This is the third article of our blog series dedicated to emerging trends that will shape e-commerce and Shopify in 2023 and the years to come.
If you've missed our introductory guide and the first two articles of the series, now is the perfect time to read them:
Today, we'll talk about trend 3: Brand identity becomes paramount. Let's commence!
In 2023, brand identity will be a key brand differentiator. Topics like social responsibility, sustainability, personalization, and authenticity will take center stage. In today's article, we'll discuss each of them in detail.
Socially responsible brands will win over their customers' hearts and trust
Corporate social responsibility has always been important. Since the pandemic hit, it has become a must for all brands that want to cut through the noise and engage their customers. Today more than ever, people want to know what brands care about and how they contribute to it.
In 2023, you should aim to highlight your social initiatives, share your sustainability efforts, and speak up about your values on social media. You should incorporate this in all aspects of your social media presence. For example, create dedicated posts (across all platforms your target customers use), host Q&A lives (Facebook & Instagram), share each small step on Stories (Instagram), and celebrate every win with a short Reel (Instagram) or a TikTok video. You can even host virtual events and fundraisers. We'll discuss all this in more detail in our next guide, which will focus on the rise of social commerce and how e-commerce businesses can make the most of the opportunities social media offers. So, stay tuned!
Sustainability is a crucial component of corporate social responsibility
If you want to succeed in 2023, you must share your sustainability efforts and be able to show exactly how you're making a real impact. This is essential because, as more and more brands start pushing sustainability, it is becoming more difficult for consumers to determine which ones are genuinely sustainable and make a real impact and which are simply greenwashing. Therefore, you must tell your unique brand story, share your actual sustainability efforts, and focus on authentic communication and transparency.
Also, it is not enough to speak about sustainability on social media, or create a single web page dedicated to sustainability. Sustainability must become one of the focal points of your marketing strategy. You must clearly communicate the positive changes you're making to reduce your impact on the environment throughout your website and across different touchpoints of the buyer's journey. For example:
Create detailed product descriptions. Explain how the product is made, where, by whom, what materials are used, and how they are sourced. Get inspired by BaYou with love:
During checkout, be transparent about how you offset the carbon emissions from customers' purchases. Also, you can consider sending customers digital receipts. If you choose this practice, make sure to mention it.
Use the "About" page to highlight your business's efforts to lower the impact of your products on the environment. Or, better yet, create a page dedicated to your sustainability efforts, mission, and brand journey. Get inspired: BaYou with love: Sustainable Production, BaYou with love: Conscious Sourcing & Patagonia: Our footprint
As we mentioned above, incorporate sustainability in your social media marketing. It is best if you, other brand representatives, ambassadors, or relevant influencers tell the story first-hand - this will make it more personal, authentic, and credible.
If appropriate, incorporate sustainability in your email marketing. For example, write a sentence or two at the end of your monthly or weekly newsletter, share the initiatives you support in relevant campaigns, add links to your website where you communicate your efforts, and more.
Personalization and authenticity will be paramount
Personalization is not exactly a hot topic - it has been a global consumer trend for several years. However, many brands have considered personalization only as far as email marketing and ads are concerned.
But in 2023, this won't be enough - today, consumers expect a shopping experience uniquely tailored to each online surface your brand exists on.
This means that they expect your social media feed to be personalized as well - news and generic posts won't cut it. To catch your viewers' attention, you need to:
Address specific customer concerns and provide solutions. This will build consumer trust and help you highlight your products' benefits and unique brand differentiators. You can gather relevant insight from customer support tickets, product return forms, customer feedback, and more.
Create next-level posts about your best-selling products. For example, tell a story (e.g., who came up with the idea and why), highlight the product's benefits (e.g., share specific ways in which the product can improve your customers' lives), share real customer stories and video testimonials, etc.
Leverage UGC (User-generated content). This will make your posts more genuine - people trust their peers more than they trust brands. Also, UGC makes customers feel they are a part of your brand journey - they literally become brand storytellers. This builds brand loyalty, eases hesitant shoppers buying decisions, and helps you grow your customer base in a highly engaging and honest way.
Take your customers "behind the scenes." For example, show a video of your team packing and shipping orders, share a photo or a story of how the product is made, or an interview with the founder sharing what drove them to create the business. Include customers in the process, show them the big picture, and tell them your raw and unfiltered story. This will make you more relatable. As a result, it will increase buyer confidence, make customers feel more comfortable reaching out to you and sharing their concerns, and, ultimately, benefit your bottom line.
To sum up, your goal is to create social media posts that showcase your brand's personality, provide value, and tell your unique story in an authentic manner.
Achieving this requires a massive creative force, patience, and dedication. But it will be worth it - people will trust you and want to invest in your brand. Moreover, they'll share your posts and recommend you to their friends, which is the ultimate social media success a brand can achieve.
Ultimately, to cut through the noise and differentiate yourself from your competitors, you must let your brand identity shine and create an honest and engaging brand narrative.
After all, honest and open communication is the foundation of effective marketing communication. It presents many opportunities to highlight your USPs in a subtle yet extremely impactful way. Also, it allows you to communicate your brand values and mission in a way that entices customers to join the conversation.
So, speak about your brand - tell your story and let your brand identity shine across different touchpoints in the buyer's journey and across multiple platforms.
Before we wrap things up, here's one final piece of advice - The best way to create an honest, rich, and emotionally charged brand narrative is to answer the following questions:
Who are you?
Why does your brand exist? Why did you start your business?
Why do your products exist? How can they make people's lives better?
What is your mission? What do you strive for?
What are your brand values? What do you believe in?
What do you bring to the table that your competitors can't? Why should a customer trust you over somebody else?
As Ben Jabbaway, founder and CEO of e-commerce marketing platform Privy, says: "Telling that story and anchoring the marketing around it, builds a connection with the customer. That's going to take the business to the next level."
Wrap-up
So, there you have it - brand identity is and will remain paramount. It will be a key brand differentiator in 2023 and for many years to come. So, let yours shine! Build an honest and engaging brand narrative. Share your unique story and initiatives. Communicate your brand values and personality. Personalize your content. Be bold. Have fun and enjoy the ride! This is what will set you apart from your competitors and win you a place in your customers' hearts!
We hope this article will inspire you and give you the courage to put your brand identity in the spotlight! If you have further questions, just leave a comment below! And stay tuned for the next article of our e-commerce trends series. Next, we'll tackle trend 4: The rise of social commerce.