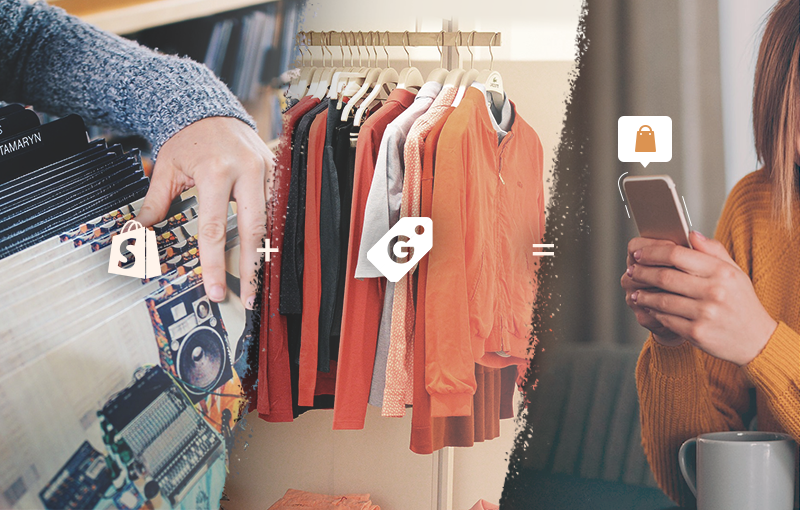 The coronavirus pandemic taught us a lot and showed us the importance of adaptability and flexibility. Retailers quickly realized they needed to level their digital game up if they were to stay in business. As a result, e-commerce thrived and saw exponential growth in 2020.
Source: The future of ecommerce
Today, people buy everything online - from essentials, books, and cosmetics to apparel, home decor, and games. Moreover, they shop anywhere, anytime, using different devices - from their PCs or laptops at home to their tablets and phones when they're on the go. And they expect a seamless and personalized shopping experience across all devices.
As a Shopify store owner, you know that a customer's shopping experience doesn't begin on your website - it starts way earlier (and the earlier you engage a customer, the better). A customer's shopping experience is connected to their buyer's journey and their buyer's journey can begin during a conversation over dinner or when something they frequently use breaks.
More often than not, a buyer's journey with your brand starts with a relevant and well-targeted ad that appears when they're searching for something on Google, browsing their favorite blogs or news sites, watching a video, or even checking their email. Google Shopping campaigns allow you to reach your customers across all these touchpoints - in some cases, even for free. They allow you to present your products in the best light and catch a potential customer's attention early in the buying cycle. This is why it's essential that you leverage them. Today, we'll show you how.
Overview
What is Google Shopping?
Google Shopping is a service that allows merchants to create campaigns and advertise their products or create free product listings. Respectively, it allows potential buyers to easily discover, compare, and purchase products online. Customers can compare products by different brands - they can view product images and names, descriptions, pricing, availability, seller information, and more. In this way, they can make more informed buying decisions.
Compared to Search ads, Shopping ads are more engaging - there's the added benefit of the visual stimuli, i.e., the product photos. Customers can see exactly how a product looks before clicking the ad.
Compared to Display ads, Shopping ads are more informative - customers can view essential product information (e.g., a product name and description, price, availability, condition, brand, and more).
Shopping ads are also extremely easy to set up (but more on this later). Of course, there's also the added benefit that you don't need to be a keyword master (as there is no actual bidding on keywords). Simply put, if Google matches your product attributes to a search query, it displays your Shopping ad (or a free product listing) along with other relevant products (sold by other merchants).
Also, keep in mind that you pay only if someone clicks on your listing - and that is if you're running a Shopping campaign. Merchants don't have to pay a fee if a customer clicks on their free listing.
As you can see, it's a win-win situation, so you should definitely leverage Google Shopping. To do this:
You need a Google Ads account.
You need a Google Merchant Center account. Make sure you're located in a supported country and learn more about supported languages and currencies → Google Merchant Center Help, Supported languages and currencies
You need to upload your product feed to your Google Merchant Center account. Since Shopify is an official Google Shopping partner, you can do it hassle-free using Google Channel (but more on this later).
There are three types of Shopping ads:
Product Shopping ads - These ads are created based on the information (product feed and product info) you provide in your Google Merchant Center account. This is why it's important to regularly update your product feed - in this way, your product titles, descriptions, prices, etc., will always be accurate.
Aside from the price, product titles, product descriptions, and images are what entices potential customers to click on your ad. This is why you need to put extra effort when creating them. Here are a few of the best practices:
The product title should be short and sweet. It should accurately describe the product and match the content on the product page.
The product description should complement the title. It should focus on the product features. You should avoid mentioning any seller information. You shouldn't include links to your Shopify store (e.g., links to other product pages). Google also advises against mentioning competitor products. Keep it simple and straight to the point.
You should upload high-quality product images that showcase the best features of the product. The product should take between 75% and 90% of the image. The images shouldn't contain overlays, such as watermarks, or discount product ribbons.
Showcase Shopping ads - You can group similar products (literally hundreds of them) to present your Shopify store in the best light. These ads will give potential buyers context, i.e., a better understanding of what you offer. It will also make them feel closer to your brand. This, in turn, will lead to higher engagement.
Local inventory ads - You can display your ads to people located nearby. If you also have a physical store, you can use these ads to promote your in-store inventory and drive more foot traffic your way.
Why you should take advantage of Google Shopping
Google Shopping ads contain rich product information (e.g., a product image, price, brand/manufacturer, rating, number of reviews, availability, etc.). As a result, Google Shopping ads are more engaging. They can increase content viability, facilitate customers' buying decisions, and offer a great shopping experience - customers can view your products and get essential product information before clicking your ad and visiting your Shopify store. All this leads to higher CTR (click-through rate) and an increase in sales.
How can Shopping campaigns benefit you?
Shopping campaigns can benefit you in several ways. First, they generate targeted traffic and better-qualified leads, i.e., the people who click on your Shopping ad are clearly interested in the product  (they intentionally searched for a similar product, they liked your ad, they're aware of how your product looks, how much it costs, etc.). This, in turn, leads to more sales.
Second, Shopping campaigns will broaden your reach - your Shopping ads (and free product listings) can appear on the SERPs, on the Google Shopping tab (this feature is not available in all countries), on websites that are part of the GDN (the Google Display Network), on YouTube, Gmail, and more. They can also appear across different devices.
Third, as we already mentioned above, they are easy to create and manage. You also have access to powerful performance insights so that you can easily adjust your approach. Learn more about Shopping ads → About Shopping campaigns and Shopping ads
Note: To make it easier for merchants to leverage Google Shopping and expand their reach, in April 2020, Google made sure that the results on the Google Shopping tab primarily consist of free listings.. They started with the US, and their goal was to roll out the feature globally by the end of 2020 (source: Bill Ready, President, Commerce, Google Shopping). This doesn't mean that paid ads no longer appear on the shopping tab - they're just augmented with free listings.
How Shopping campaigns work
As you can see, Google Shopping uses Google's search technology to connect merchants with potential buyers, i.e., it helps shoppers easily find a wide range of products online. All they need to do is type a keyword, and Google generates an engaging product feed:
Image source: Google Channel - Shopify
How does this work?
Google uses your Merchant Center product feed and data to match search queries to your Shopping ads, i.e., instead of keywords, Google uses product attributes to match your ads to relevant queries.
For this to happen, you need to create a Google Merchant Center account and upload your product feed. You need to provide accurate product information and regularly update your product feed. Next, you need to connect your Google Merchant Center account to your Google Ads account. Then, you can create and manage your Shopping campaigns (and ads) within Google Ads.
Once you've created your Shopping ads, Google displays them based on their relevance, and you pay every time someone clicks on your ad. Note: If a customer clicks on a free listing, the retailer doesn't pay a fee. Learn more → How Google Shopping works
Before you create your first Shopping campaign
You must do several things:
Add a product feed to your Google Merchant Center account.
As we mentioned earlier, since Shopify is an official Google partner, you can seamlessly upload your product feed to your Google Merchant Center account.
How?
Shopify has its own integration with Google Shopping - Google Channel. The app automatically creates a product feed, uploads it to your Merchant Center account, and updates the list every time you add a product (to your Shopify store), or a product goes out of stock, etc. You can easily set a daily budget for your campaigns, track their performance, and more.
Google Shopping sports a rating of ⭐4.6, it is free to install, and everything you spend is billed to your linked Google Ads account.
How to create a Shopping campaign: a 6-step guide
Step 1: Log in to your Google Ads account
If you still haven't set up your Google Ads account, set it up now. Learn how → Google Ads sign-up guide
Step 2: Click "+ NEW CAMPAIGN"
Step 3: Select a campaign goal (e.g., sales, leads, website traffic, etc.)
Click "Continue".
Step 4: Select a campaign type
Select "Shopping" → Select a linked Google Merchant Center account. Note: If you haven't linked an account, Google will remind you to link your account before moving on. → Select a country where your products are sold. Note: You can select only one country of sale per campaign. You can't change the country of sale after setting up the campaign.
Select a campaign subtype (e.g., Smart Shopping Campaign, or Standard Shopping campaign). Note: Google recommends starting with Smart Shopping campaigns as ad placement and bidding are automated, and campaign management is much simpler. Keep in mind that before you set up a Smart Shopping campaign, you have to set up conversion value tracking and remarketing. → Click "Continue".
Step 5: Select campaign settings
Note: For the purposes of the guide, we've chosen to set up a Smart Shopping campaign.
Fill in your campaign name.
Enter your daily budget - Your daily budget is the average amount you want to spend on a daily basis. Remember that your monthly budget is calculated based on your daily budget, i.e., your monthly budget is your daily budget multiplied by the number of days in a given month. For example, if your daily budget is $100, your January budget will be $3,000. Also, keep in mind that on some days, you may exceed your daily budget. For example, you can spend $150 instead of $100. However, this will be compensated, as there will be days you'll spend only $50. In this way, there's absolutely no chance for you to exceed your monthly budget.
Set up your bid strategy. By default, bidding is set to "Maximize conversion value". Bid strategies are a broad topic which we'll discuss in our next guide.
Define your conversion goals.
Step 6: Set up product groups and assets
Select individual products or product groups you want to advertise in your campaign. If you skip this step, all of the products in your Google Merchant Center product feed will be eligible to appear in your ads.
Upload your assets, i.e., your logo, product images, and text. Google will create  various asset combinations. Similar to how Display ads work, the best performing combinations will be displayed more frequently.
Click "Save".
Keep learning → Shopping ads readiness series
Note: If you're setting up a Standard Shopping campaign, you'll also need to create ad groups. There are two types of ad groups: Product Shopping (individual product ads which are created based on the information in your Google Merchant Center account) and Showcase Shopping (ads that advertise a selection of similar products) - we talked about these two types of Shopping ads at the beginning of the guide.
Setting up Standard Shopping campaigns is just as easy and intuitive as setting up Smart Shopping campaigns. Of course, as with any other type of Google Ads campaign, campaign setup requires a high level of PPC and SEO expertise. If you don't have such expertise in-house, your campaigns may be less effective and profitable. Therefore, we recommend you contacted a Shopify Expert who can help you with campaign setup and account management.
How to find an expert to work with?
For starters, there are nearly 100 Shopify Experts who offer SEO and paid search services. When choosing an expert to work with, you need to consider a number of factors: starting price, jobs completed, rating, reviews, and languages being the most important ones.
Then, once you shortlist the experts you could potentially work with, you need to request a quote from each of them and make sure that you'll be comfortable working with that expert. Here are a few things to keep in mind:
You must be the owner of the Google Ads account, the Shopify Expert you work with should only manage it. Preferably, everything they create (such as ad copies, for example), should be your intellectual property, not theirs.
Everything should be transparent - you need to be in the loop of what is happening, why it is happening, what are the expected results, etc. It is best if you know your account manager and have one-on-one meetings with them regularly.
You need to make sure that you can stop working with the expert any time if things don't work out.
And, now, we'd like to take a moment to promote our own Google Ads services. Here's what you need to know about working with us:
You are the owner of your account. We simply manage it and help it thrive!
Everything we create for you (including your ad copies) is yours to keep.
Everything is transparent and aligned with your objectives and budget.
You have weekly one-on-one meetings with your account manager so that you're always in the know.
No long-term contracts. If you decide you don't like us, you can back out any time. No questions asked. Contact us to learn more.
Conclusion
Google Shopping allows you to connect with potential buyers in a highly engaging manner - they can view photos of your products and other important product information (e.g., product name, description, price, etc.) before clicking your ad (or free listing) and visiting your Shopify store. This means that Shopping campaigns have higher CTR and drive more targeted traffic your way. The result? You guessed right - more sales.
Setting up Shopping campaigns is easy. You just need to make sure you meet all the requirements. Also, you need a Google Merchant Center account with a product feed (note that you should regularly update your product feed, so that your ads contain accurate information). Remember that since Shopify is an official Google Shopping partner, getting your products on your Google Merchant Center account is easy. In addition, your product feed will be automatically updated when there is a change in inventory on your store - for example, when a product goes out of stock, or is restocked. Last but not least, you need to link your Google Ads and Google Merchant Center accounts - remember that you create and manage your Shopping campaigns in your Google Ads account.
Ultimately, Shopping campaigns allow potential customers to easily discover and browse your products, as well as compare them to products by other brands. They drive high ROAS (Return On Advertising Spend) and the setup process is seamless and intuitive. Therefore, running Shopping campaigns is a lucrative opportunity you should definitely NOT miss out on. We hope this guide will help you get started. If you need more information, or have any questions, just leave a comment below!