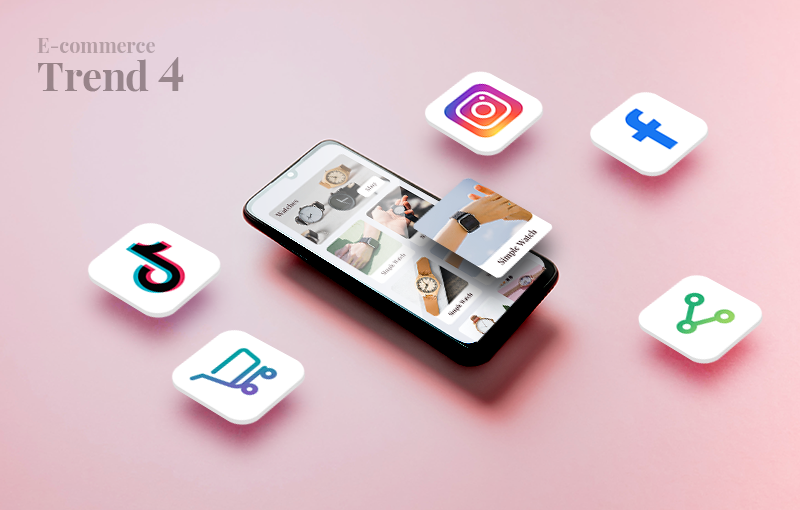 We spend a lot of time on social media. We use it to catch up with loved ones, inform ourselves, have fun, and even shop. Therefore, having a strong and engaging social media presence is a must for all e-commerce brands that want to succeed and keep up with current consumer trends.
In recent years, social media has become the focal point of many merchants' marketing strategies. It presents many challenges, but it is also packed with new and exciting commercial opportunities, such as genuine and relevant social advertising, product discovery, on-demand customer service, shoppable posts, and much more.
Before the pandemic, social storefronts were nice-to-have - an opportunity only innovative businesses would consider. This is no longer the case. Today "social is the interface of commerce and the backbone of the new customer experience" (source: Étienne Mérineau). In fact, the global social commerce industry has seen tremendous growth and is now worth more than half a trillion US dollars. Besides, about 30 percent of internet users in the United States already make purchases directly within social platforms, and sales through social media channels around the world are expected to nearly triple by 2025.
In 2023, people are expected to use social media in every stage of their buyer journey (across different product categories). Therefore, having a social storefront is no longer just nice-to-have but an absolute must.
There are numerous ways to capitalize on this lucrative opportunity. For example:
Leverage Instagram storefronts, Shoppable Stories, and Shoppable posts. More importantly, leverage live shopping and social selling through video content - both offer amazing opportunities to connect with customers and engage them in unique and immersive ways. We've described all this in more detail in our extensive guide to Instagram marketing. Learn more → The Ins and Outs of Instagram Marketing
Leverage Facebook Commerce. Selling on Facebook will broaden your reach and boost the ROI (Return On Investment) of your Facebook business page - the commerce features offer yet another way to engage with your existing customers and win over the hearts of potential buyers. Let's elaborate!
There are three ways to sell on Facebook:
You can set up a Facebook Page Shop.
If you have an existing Facebook Page Shop and Facebook Shops is available to you, you can upgrade to the more advanced Facebook Shops. But even if you don't have a Facebook Page Shop, you can create a new Facebook Shop (provided you're located in a supported market).
You can use Facebook Marketplace.
Facebook Page Shops
The Facebook Page Shops feature is widely available and allows you to add a Shop tab to your Facebook business page. It is like a catalog where you can add an unlimited number of products. You can also create collections - this will allow you to organize your products into categories and make it easier for your customers to find exactly what they need.
Basically, creating a Facebook Page Shop is an easy and effective way to reach customers on Facebook and allow them to browse and get familiar with your products. However, if a customer wants to buy something, they'll usually be redirected to your website to complete their checkout.
To add a Shop section to your Facebook business page, go to your Facebook business page > Shop > Go to Commerce Manager.
↓
Select whether you want to set up an Instagram or a Facebook shop (or both) > Once you've made your choice, click Next > Select a checkout method.
You have three checkout options:
Once you've selected your preferred checkout method, click Next > Set up your sales channels > Add shipping destinations > Preview your Facebook Page Shop > Click Save.
Once you've created your Facebook Page Shop, your Shop tab will look like this:
You'll be able to add a short description of what you sell, access your Facebook Page Shop's settings, and add products to your Facebook Page Shop.
To add a description of your products, click "+Describe what <Your Facebook Business Page Name> sells". You have a 200-character limit, so keep it short and sweet. Explain exactly what you offer without extra fluff (e.g., "the best," "amazing," "one of a kind," etc.). For example, if you sell handcrafted furniture, you can say, "Dining tables, side tables, desks, headboards, chairs, and more. Handcrafted with care and skill. Made of solid wood - oak, maple, cherry, pine, and cedar. Consciously sourced." When you're done, click "Save Changes."
To access your Facebook Page Shop's settings, click on the Settings icon (top right corner):
To manually add products to your Facebook Page shop, click "Add Product".
Fill in the required product information:
Add at least one product photo that accurately represents the product (note that it must be a real photo, not an illustration). The photo should be a minimum of 1,024 x 1,024 pixels. Also, it cannot contain text (e.g., CTAs, promo codes, etc.), offensive content, promotional materials, watermarks, or time-sensitive information.
If you wish, add a video. This is a viable option if you have product explainer videos or video testimonials.
Fill in your product name.
Add a price and specify if the product is on sale.
Add a product description. Your product description should be informative, straightforward, and properly formatted. It is a good practice to use short sentences and list the product features and benefits in bullet points. Your product descriptions can't contain HTML, contact information (such as phone numbers and email addresses), and external links (e.g., links to your Shopify store).
Add a checkout URL, i.e., the URL to the product page on your Shopify store.
If you want the product to appear on your timeline as soon as it's approved, turn on the "Share this product on your Page" option. Under "Visibility", you can choose if you want the product to be published or unpublished.
You can specify the condition of the product from the Condition selector. You have five options: New, Refurbished, Used (fair), Used (good), and Used (like new).
Click Add Product.
Repeat the process for all products you want to add to your Facebook Page Shop. Remember, you can add an unlimited number of products.
You can also upload and manage the products in your Facebook Page Shop using Catalog Manager - Meta's inventory platform. This is a viable option if you want to upload products in bulk. Keep in mind that Facebook will automatically create your catalog after you've added at least one product to your Facebook Page Shop.
Facebook Shops
Facebook Shops is a more advanced Facebook Commerce feature that allows you to create immersive and customizable storefronts across Meta's family of apps. For example, some businesses are eligible to have a shared storefront across Facebook and Instagram.
For customers, Facebook Shops storefronts are easy to navigate and use (view examples: Prada, Tara Jarmon). For merchants, leveraging Facebook Shops is a great way to deliver a seamless and more engaging shopping experience across different apps and devices.
Facebook Shops differs from Facebook Page Shops in several key ways:
You can have a unified storefront across Facebook and Instagram. As a result, you can deliver a more seamless shopping experience.
You can manage all your storefronts and inventory from one place, which offers convenience and saves time.
You can customize your storefronts to perfectly match your brand identity and build a strong and recognizable brand presence across Meta's family of apps.
You can create collections so that your customers can easily and quickly find exactly what they need.
You can customize the collections to deliver a more immersive, engaging, and personalized shopping experience.
Check if you're eligible for Facebook Shops: Supported Markets for Facebook Commerce Surfaces
Setting up a Facebook Shop is easy. In fact, if you already have a Facebook Page Shop (or an Instagram Shop), and Facebook Shops becomes available to you, you'll receive an email and a notification, prompting you to convert to Facebook Shops.
But what if I don't have an existing Facebook Page Shop (or an Instagram Shop)? In this case, you'll still be able to leverage Facebook Shops - you'll just need to create a new Facebook Shop using Commerce Manager. Of course, you'll need to comply with Facebook's requirements and have a Facebook business page and a Facebook Business Manager account (that owns your Facebook business page and catalog). Also, you'll need permissions to manage your page and catalog in Business Manager.
If you want your Shop to appear on Instagram as well, you'll need an Instagram business account. Again, your Business Manager account must be the owner of your Instagram business account and the page it is connected to.
To set up your Facebook Shop in Commerce Manager, open the Commerce Manager onboarding page > Select Facebook > Click Next > Choose a checkout method > Select the sales channels you'd like to sell from >Select your Facebook Business Manager account (or create a new one) > Select the catalog you want to use for your Facebook Shop > Preview your Shop details and agree to the Seller Agreement > Click Finish setup.
Facebook Marketplace
Facebook Marketplace allows people to browse, purchase, and sell various items. Everyone can easily create a product listing - you don't have to have a Facebook Page Shop or a Facebook Shop. In fact, you don't even need to have an e-commerce website or a Facebook business account. All you need is an active (and trustworthy) Facebook account. This means that Facebook Marketplace is a great opportunity to get your products out there if you're just starting your business.
More reasons to use Facebook Marketplace:
It will broaden your reach. Facebook and Facebook Marketplace attract over 2.91 billion monthly users. You can also post your Marketplace product listings to relevant Facebook groups and reach even more potential buyers.
Customers love it because it is easy to navigate and use - the results can be filtered by location, product type, and price.
The results in the marketplace are tailored to each person. Therefore, you can get your products on the radar of customers who'll be warm to your offer and deliver a more personalized shopping experience.
You can present your products in the best light, i.e., write informative, SEO optimized, and properly formatted descriptions, add professional product photos, etc.
You can create product listings for free.
No setup is required. You just need to go to the Marketplace tab and upload your products. Note that you'll need to add your products manually. This will be time-consuming if you want to create more product listings. However, it won't be a problem if you have a small catalog store or only want to feature your best-selling products. To create a product listing in Facebook Marketplace, go to Facebook Marketplace > Click + Create New Listing > Choose a listing category > Fill in the required information (e.g., add photos, title, price, description, specify the condition of the item, etc.) > Review your listing > Click Publish. That's all - the process is easy, straightforward, and takes only a few minutes. Learn more about Facebook Marketplace → How Marketplace Works
The downside:
In order to buy something on Facebook Marketplace, customers need to contact the seller via Facebook Messenger. This will require you to invest more time in customer service, order management, and logistics.
Similar to other Facebook Commerce surfaces, to use Facebook Marketplace, you must be located in a supported market. Check if you're located in a supported market.
Leverage TikTok. With over one billion active users, TikTok is the world's third-largest social network behind Instagram and Facebook. The platform offers huge business opportunities worth exploring.
Improve the overall social media shopping experience you offer - from discovery and consideration to engagement and purchase. Pro tip: Provide as many product and brand details as possible - social networks are the primary channel for online brand research for people aged 16 to 24 (source: The Global State of Digital 2022, Hootsuite & We Are Social).
Now that we have outlined the opportunities social media channels offer and how you can make the most of them, let's move on to the next section of the guide and explain how Shopify can help you jump on the social commerce trend.
How Shopify can help you authentically engage customers with social commerce
You can easily create, run, and optimize your social media campaigns across TikTok, Instagram, and Facebook - right from the Shopify admin.
You can sync your product catalog with your social media business accounts. In this way, customers can easily make purchases directly on social media.
You can leverage Shopify's new in-app integration with TikTok. This means that you can control all-things-TikTok from the Shopify TikTok sales channel. Once you add the TikTok sales channel to your Shopify store, you can:

Add an in-profile shopping tab to your TikTok account and create a mini storefront that links directly to your online store at checkout.
Easily run campaigns and use the Video Generator tool to produce TikTok videos.
Sync your products and run everything smoothly from your desktop - run, track, and optimize ad campaigns (from one-click Pixel installation to audience targeting) in one place.
Wrap-up
The rise of social commerce is an exciting and lucrative trend, filled with numerous marketing opportunities - from product discovery to optimizing the post-purchase experience.
There are many ways to capitalize on the social commerce trend. For starters, you should begin with selling on Instagram, leverage the Facebook Commerce features available to you, and create a strong and recognizable brand presence on TikTok.
We hope this guide will help you achieve all this and inspire you to jump on the social commerce trend! If you have further questions or want to share your own experience selling on social media, just leave a comment below!