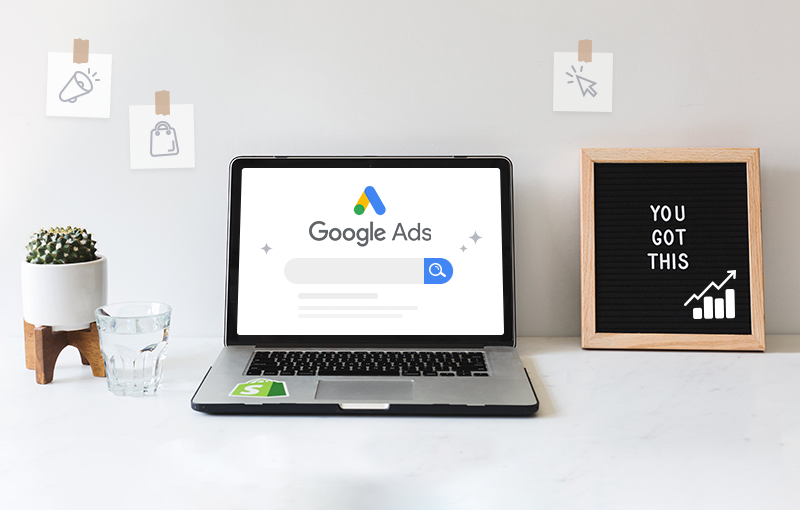 At any given moment someone somewhere is using Google to search for what your business offers.
Therefore, "Should Shopify store owners advertise on Google?" is a rhetorical question.
At first sight, advertising on Google may seem daunting. But once you gain the required expertise (i.e. understand how Google Ads works, define what you want to achieve and how to achieve it, etc.), the picture becomes clearer and things get easier.
Giving you this knowledge is why we created this series of guides dedicated to Google Ads. In the weeks (and months) to come, we'll talk about different campaign types, creating mobile-friendly ads, budgeting, tracking, analytics, adjusting your approach to get better results, and much more.
Today's guide is the prelude to this vast and exciting journey. We'll talk about the basics of advertising on Google. We'll have a closer look at what online marketing is, the difference between organic and paid search, the value of Google Ads, and what you need to do before you start advertising on Google. Let's commence!
Overview
What you need to know about online marketing
Online marketing (also called online advertising) is any form of product/services promotion delivered through the Internet (e.g., search engines, websites, mobile apps, email, social media, etc.).
SEO (Search Engine Optimization), SEM (Search Engine Marketing), PPC (pay-per-click advertising), content marketing, social media marketing, affiliate marketing, and email marketing are forms of online marketing.
In this blog series, we'll focus on SEO, SEM, and PPC. We'll talk about different strategies and we'll share a ton of tips and fun examples. But first, let's see how they differ from each other.
The difference between SEM and SEO
The SERPs consist of organic listings and paid listings.
With SEO, you drive organic traffic to your Shopify store, i.e. you don't pay when someone clicks on your link. If you get to the top of the organic listings on the SERPs, it is because Google rewarded you for creating relevant and high-quality content (that deserves more exposure and more clicks). Ultimately, the more relevant your content is to the search query, the higher it will rank.
SEM describes the process of advertising on Google (and other search engines). With SEM, you still get a lot of exposure, but you pay every time someone clicks on your ad. In other words, you drive paid traffic to your Shopify store.
Both SEO and SEM are powerful forms of online marketing. They are also the two ways to get exposure on the SERPs.
The difference between SEM and PPC
SEM refers to search engines only, i.e. Google, Bing & Co.
PPC is an advertising model associated with search engines (such as Google, Bing, etc.), but PPC ads can also appear on social networks (such as Facebook, Twitter, LinkedIn, and Pinterest), websites, and more.
In other words, all SEM ads are PPC ads, but not all PPC ads are SEM ads. Google Search ads can be defined as both SEM and PPC ads. Google Display ads can be defined as PPC ads.
Why you should combine SEO and SEM
As we already mentioned, SEO and SEM are the two ways to get exposure on the SERPs.
And as a Shopify store owner, you already know that the more SERPs "real estate" you own, the higher your chances are to achieve your (business and marketing) goals - generate website traffic, leads, sales, etc.
Therefore, to get to the top of the organic search results, it is essential that you create high-quality content and optimize your Shopify store for search engines.
However, don't underestimate Google Ads - this is the way to get featured in the paid results section.
Simply put, both SEO and SEM are powerful forms of online marketing that can get you to the first page of the SERPs. But neither approach is as effective on its own, as the combination of the two. Making the best of both SEO and SEM will help you achieve outstanding results - fast and efficiently.
In addition, you can use your SEO knowledge to improve your SEM strategy and vice versa - the insights you gain from your Google Ads campaigns can help you improve your SEO strategy.
What are Google Search ads
This is a search ad:
A few important things about this ad:
It was triggered by the following keyword: "karl lagerfeld". This keyword has 301k average monthly searches (in the US, Canada, Australia, New Zealand, UK, and most countries in Western and Northern Europe).
It has an ad label. Paid listings always have an ad label. Ads can never appear within the organic listings. You can't pay more to have your ad placed within the organic results (without an ad label). How much you pay affects where your ad appears in relation to other ads, not organic listings. Note that running online ads won't impact your organic listings.
It appears on top of the SERPs. Here's an interesting fact about the #1 result on the SERPs - it has an average CTR (click-through rate) of 31.7% (source: Backlinko). This means that this ad would get approximately 95k clicks. Given that the keyword doesn't show clear buying intent, not all these visitors will convert. However, many of the visits will eventually turn into a sale.
To maximize clicks, it is a good practice to write engaging copies with enticing offers and clear CTAs. It is also a good idea to highlight your USPs (unique selling points), or benefits (e.g., "More than 10.000 brands to choose from", "New arrivals every week", "Up to 60 days for returns", "Expert customer care", "Secure payment", etc.).
To maximize conversions, your product pages (or the landing pages in your ads) should provide a good page experience. You can also make bid adjustments and leverage Google's Maximize conversion value, but this is something we'll discuss in another guide.
Search ads can also appear at the bottom of the SERPs - the placement of the ad depends mainly on your quality score and how much you've bid on the keyword. We'll explain this in more detail below.
Image source / Learn more about ad placement: Where your ads will appear on Google
A few important things to remember about Google Ads in general:
You need to clearly define your goals (business, advertising, conversion goals, etc.).

You need to clearly define your target audience.

You need to define your budget. Keep in mind that Google Ads doesn't require a minimum budget. Google's recommendation is to start with an average daily budget of $5-$50. This way you'll be able to maximize your exposure opportunities (without spending a fortune).

The best practice is to target relevant keywords which show clear buying intent.

You need to create relevant and interesting ad copies with clear and benefit-oriented CTAs.

You need to be able to analyze the results of your campaigns.

You need to constantly think of new ways to improve your strategy and achieve better results.

You need to be able to scale up your efforts.
If you manage to do this, the ROAS (Return On Advertising Spend) could be enormous - your sales will be through the roof, you will acquire new customers, increase brand recognition, build customer trust and brand loyalty, and more.

What are Google Display ads
Display ads appear on websites, social media platforms, and mobile apps that are part of the Google Display Network (GDN). An interesting fact about the GDN - it has over 2 million websites and reaches over 90% of the people on the internet. That is a lot of exposure! Learn more → Where your ads can appear
Display ads come in all shapes and sizes. Video ads (yes, all these YouTube ads!), banner ads, interstitial ads, and rich media ads are common examples of Display ads - you can choose the format that conveys your message and presents your brand in the best light.
You can use Display ads to drive traffic to your Shopify store, increase brand awareness, etc. You can also set up a retargeting campaign (i.e. target people who have already visited your website). Here's an example of a retargeting ad:
The other morning, I was browsing The Body Shop. Later that day I checked Jamie Oliver's website for a dinner recipe and I saw this ad - simple, effective, and extremely targeted.
Ultimately, the benefits of setting up Display ads are numerous, and we'll talk about them in another guide.
The value of Google Ads
Reach the right people at the right time. In other words, reach the people who are most likely to buy from you exactly when they're searching for products/services/businesses, etc. like yours online. You can use a number of highly specific targeting options to achieve this. For example, if you're advertising on the Google Search Network, you can target hundreds of keywords simultaneously, create negative keywords lists and apply them to your campaigns, choose to display your ads only at certain times, specific locations, and languages. And if you're advertising on the Google Display Network, you can target people based on their age, interests, the websites they visit, and more.
Gain a lot of exposure and reach new markets.
Drive a ton of high-quality traffic (targeted traffic that converts) to your Shopify store.
Drive immediate results and generate profit fast.
Have full control over your budget - set a daily budget, set a maximum budget, set a flexible budget and adjust as needed, and more. Basically, you decide how much you want to (and can afford to) spend, and pay only when someone clicks on your ad.
Test different ads and different marketing strategies to see what works best for you.
Analyze the results from your campaigns and use the insights to adjust your SEM approach and inform your SEO strategy.
Achieve your business goals.
Achieve your marketing goals.
Simply put, advertising on Google will help you grow your business and profits, build brand awareness and equity, acquire new customers, tap into new markets, and much more. Learn more → Grow your business with Google Ads
Before you start advertising on Google
Before you start advertising on Google, you need to:
Identify your business goals
Identify your marketing goals
Understand how Google Ads works
Get familiar with Google's advertising policies
Set your business goals
Identifying your business goals and strategy before setting up your Google Ads account (and running campaigns) is crucial - it will motivate you, help you stay focused and think critically about your business, be proactive, and more. Your business goals should align with your business plan, values, mission and vision.
Best practices for identifying your business goals:
Set specific and clear goals - you need to know exactly what you want to achieve. Do you want to grow your profits, build brand awareness or loyalty, expand your market share, increase customer LTV (life-time value), etc.?
Set achievable goals - you must have the budget, time and resources to achieve your goals.
Think strategically about your goals - how are you going to achieve them? Create a list of tasks you need to complete in order to achieve your goals. Create a plan and a timeline and make sure to stick to it.
Commit to achieving your goals. Stay on track, meet your deadlines, pay attention to the task at hand, etc. If you find it difficult to stay on top of your tasks, it might be a good idea to work with a project manager.
Define how you'll measure your success. For example, which KPIs (Key Performance Indicators) will you monitor?
Think about the future, i.e. come up with a way to scale up your efforts.
Set your marketing goals
Identifying your marketing goals is just as important as identifying your business goals as it will help you manage your budget better, i.e. define if you've allocated enough resources to the campaigns that help you achieve your business goals (e.g., build brand awareness and equity, generate leads, facilitate your customers' buying decisions, drive sales, and more).
Again, when defining your goals, make sure they are specific and clear, achievable, and measurable. Create a plan and a strategy to achieve them, roll up your sleeves, and start running some campaigns!
Ultimately, you need to find the synergy between your business and marketing goals. Achieving your marketing goals should contribute to the achievement of your business goals. Both should contribute to your Google Ads success and your overall e-commerce success.
Google Ads explained
How Google Ads works
Google Ads is Google's advertising platform. As we already mentioned, advertising on Google will help you grow your business, expand your brand reach and tap into new markets, increase brand awareness, generate leads, drive sales, build brand equity, and more. Learn how to create a Google Ads account → Google Ads sign-up guide
If you want to be a successful Google Ads advertiser, you need to know your audience (existing and potential customers looking for products/services like yours online), and understand how the platform (i.e. Google Ads) works.
Knowing your customers will give you a better understanding of the types of keywords you need to bid on in Google Ads - these are the keywords that will trigger your ads. There's a lot you need to know about keyword research and keywords for that matter - there are different keyword match types, similar keywords should be grouped in ad groups, negative keywords should be excluded from your campaigns, and more. We'll discuss all this in another article. Now, let's go back to the topic at hand - what happens when you bid on a keyword.
When you bid on a keyword, you say how much you're willing to spend on your ad per click. The Google Keyword Planner gives you the top of page bid (low range and high range) for (most of) the keywords you'll want to target - this way you can make an informed decision about your bids and bidding strategy.
Before setting your bids, you need to know that the campaigns run on an auction system. Basically, you compete with other advertisers, who have also bid on the same keyword(s). What is interesting about this auction, however, is that the highest bidder doesn't always win. Google also takes into account a number of other factors - how relevant the keyword is (to your business, brand, product, service, etc.), how relevant your ad copy and landing page are (to the search query), how good your landing page is, and more. This means that it is possible that someone who has bid less than you on a particular keyword may rank better for it, i.e. their ad may be displayed above your ad, because their products/services, ad copy, or landing page are more relevant to the search query than yours.
Basically, Google displays ads on the SERPs based on Ad Rank - a combination of the advertiser's bid and quality score. The quality score is based on the relevance of the ad, the expected CTR (click-through rate), and the landing page experience.
Learn how to create outstanding page experiences → 15+ Ways To Provide A Stellar Page Experience On Shopify
The Google Ads dashboard

First, let's have a look at the Overview page:
It is the page you land on after you sign in to your Google Ads account and it is where Google shows insights about the performance of your campaigns.
The insights are displayed in two types of cards:
A summary card which gives an overview of your performance for a specific time period (displayed in the upper right corner, below your account information). Use the arrows ("<" and ">") to change the time period. Learn more about the summary cards → About the Overview page, Summary cards
Insight cards that contain important performance highlights. Hourly performance pacing (which helps you make decisions on changing your bids, or adjusting your budget), New words (which gives you keyword ideas, helps you define negative keywords, etc.), Device shift, Top vs other, Ad group shift, and Geo (all of which can inform your bidding strategy) are examples of Insight cards. Learn more → About the Overview page, Insight cards
Note that Google selects the cards on your Overview page based on your campaign settings and account performance. You can change the type of metrics shown and the scope of the page. Learn how → Use the Overview page
You can use the left sidebar to manage your campaigns (both Search and Display campaigns). You can also manage ad groups, ads and extensions, landing pages, keywords, audiences, demographics, topics, locations, account settings, and more. Check the Quick reference map to find all key features in Google Ads.
Next, let's check the Tools & Setting drop-down menu:
The Tools & Settings drop-down menu is divided into 6 subcategories:
Planning - find tools like Performance Planner, Keyword Planner, Reach Planner, and Ad Preview and DIagnosis.
Shared library - manage your audience, bids, negative keywords, shared budgets, location groups, and placement exclusion lists.
Bulk actions - rules, scripts, and uploads.
Measurement - track conversions, attribution, and gain Google Analytics insights.
Setup - business data, policy manager, access and security, linked accounts, preferences, Google Merchant Center.
Billing - summary, documents, transactions, settings, promotions.
We'll discuss these functionalities, settings, tools, etc. in more detail in our future guides. We'll pay close attention to everything you need to know and use in order to make the most of Google Ads. Now, let's move on to the last, but very important, section of this guide - Google's advertising policies.
Google's advertising policies
The Google Ads policies is an important set of rules all advertisers should know like the back of their hands - every campaign and ad you create must comply with them, as well as with any other applicable laws and regulations.
The policies cover the following topics:
Prohibited content (e.g. counterfeit goods, dangerous products or services, enabling dishonest behavior, inappropriate content)
Prohibited practices (e.g. abusing the ad network, misuse of user information, irresponsible data collection & use, misrepresentation)
Restricted content and features (e.g. adult content, alcohol, copyrights, gambling and games, healthcare and medicines, political content, financial services, trademarks, and more). The promotion of such content is allowed, but on a limited basis. Not all ad products, features, or networks can support restricted content. Note that you cannot run personalized ads on "made for kids" content. Learn more → Determining if your content is "made for kids" & Ads and made for kids content
Quality standards for your ads, websites, and apps. Or, in other words, editorial and technical requirements.
If your ads don't comply with Google's advertising policies, they will be disapproved, your account may be suspended, your remarketing lists may be disabled, and more. Learn more → What happens if you violate Google's policies
So, take the time to carefully read the Google Ads policies - take notes, make it a habit to read the document every month and check for updates. Better safe than sorry!
Conclusion
We hope this guide will give you a better idea of how search engine advertising, and Google Ads in particular, work.
Next, we'll talk about the Google Keyword Planner and how you can use it to find relevant keywords that show clear buying intent. We'll also talk about combining similar keywords in ad groups, creating negative keywords lists, and more.
If you have further questions, just leave a comment below. You can also check the Google Ads support center.