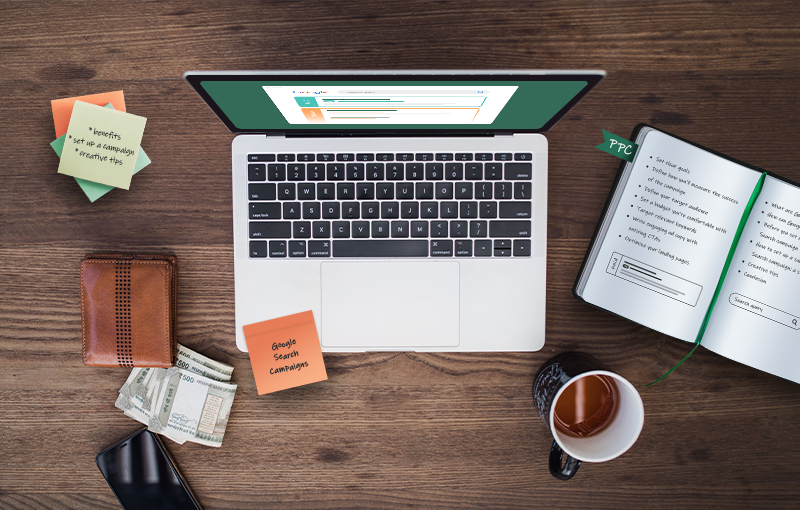 Today, we'll talk about Google Search ads - what they are, how they can benefit you, and how you can create a successful Google Search campaign. We'll tackle everything from campaign setup to ad copy. We'll also share inspiring examples, helpful tips, and advanced practices.
If you're a PPC newbie, we recommend checking the previous two guides of our Google Ads series before reading this article:
Overview
What are Google Search ads?
Google Search ads are text ads that appear on the SERPs (Search Engine Results Pages) - either at the top (above the organic search results) or at the bottom (below the organic search results).
The position of your search ads depends on several factors - your bid and quality score being the two most important ones. Your quality score is based on your ads' relevance, the expected CTR (click-through rate), and the landing page experience.
Google Search ads are triggered by keywords and always have an ad label (that sets them apart from the organic results).
Keep in mind that Google Search campaigns and Google Search ads are not the same things. A campaign is a collection of ad groups and ad groups are collections of keywords and ads - the best practice is to create 3 different ads for each ad group.
To create a successful Google Search campaign, you need to:
Set clear goals
Define how you'll measure the success of the campaign
Define your target audience
Set a budget you're comfortable with
Target relevant keywords
Write engaging ad copy with enticing CTAs
Optimize your landing pages
In the following sections, we'll have a look at each of these tasks. We'll also show you how to set up a Google Search campaign properly. But first, let's see how you can benefit from running Google Search ads.
How can Google Search ads benefit you?
Google's search engine market share is more than 90% (Source: Review 42). Advertising on Google will allow you to reach an exceptionally broad audience.
Google Ads offers powerful targeting options. This allows you to reach the right people at the right time and engage them with an offer they cannot resist. In this way, you're able to drive high-quality traffic (i.e., targeted traffic that converts) to your Shopify store.
Additionally, with Google Ads, you can:
Grow your business and expand your reach.
Achieve your business and marketing goals, e.g., increase brand awareness, acquire new customers, boost conversions, build brand loyalty, etc.
Set yourself aside from your competitors.
Have full control over your campaigns and budget.
Get results fast. Running Google Search campaigns can get you to the #1 spot on the SERPs faster than optimizing your pages for search. Of course, SEO is an integral part of your success. In fact, if you combine SEO and PPC, you'll achieve outstanding results. Learn more → Shopify SEO & Paid Advertising: Get The Best Of Both Worlds
Set up analytics and gain powerful insights about your customers and their search patterns. Besides, the insights from your PPC campaigns can inform your SEO strategy.
Before you set up your first Google Search campaign
You need to:
Set clear and achievable goals. Define what would make your campaign a success - do you want to generate more sales, acquire new customers, build brand loyalty, etc. Once you've defined your goals, create a strategy to achieve them. Come up with a plan, a timeline, and tasks for every member of your team. If you don't have the time to stay on top of everything, hire a dedicated PPC team, or outsource Google Ads management to a certified Shopify Expert. Learn more → Finding the right Shopify Partner to manage your Google Ads account
Define which KPIs (Key Performance Indicators) you'll measure. For example, will you measure success based on impressions, CTR (click-through rate), conversion rate, CPC (cost per conversion), the average position of your ad, quality score, etc.
Define your target audience. Your target audience consists of your existing and potential customers.
Find relevant keywords, i.e., keywords your (potential and existing) customers use to find products/brands/stores like yours online. Learn how → Google Keyword Planner: How to Find the Keywords Your Customers Use?
Optimize your landing pages. The overall quality of your landing pages is primary, as they directly impact your Ad Rank (which Google uses to define where to display your ads on the SERPs). Also, a better page experience has proven to lead to more sales and a noticeable increase in customer satisfaction. Learn how to optimize your landing pages and deliver better page experiences: On-page SEO for Shopify: The Ultimate Guide & 15+ Timeless Ways to Provide a Stellar Page Experience on Shopify
Set up conversion tracking. Open Google Ads > Tools & Settings > Measurement > Conversions
You'll see your CONVERSION ACTIONS and CONVERSION ACTION SETS.
In CONVERSION ACTIONS you can see all your conversion actions, their source, category, tracking status (based on data from the last 7 days), how they're counted, and more.
You can also edit how long a conversion can be recorded after an ad interaction. For example, if your conversion window is 7 days and someone purchases the product from your ad on day 6 after the ad click, it is counted as a conversion, but if they place an order on day 8 or later, it isn't.
CONVERSION ACTION SETS allow you to choose which conversions are shown in the "Conversions" column per campaign. In this way, you can focus on the conversions that matter most and optimize your bid strategies for them (if you use Smart Bidding).
How to set up a successful Google Search campaign: a step-by-step guide
Step 1: Open Google Ads
If you still don't have a Google Ads account, set it up. Learn how to create a Google Ads account → Google Ads sign-up guide
Step 2: Create a campaign
Click + NEW CAMPAIGN
Select a goal for the campaign (e.g., Sales, Leads, Website traffic, Product and brand consideration, Brand awareness and reach, App promotion). You can also create a campaign without a goal's guidance > Click Continue.
Select a campaign type. There are several types of campaigns: Search, Display, Shopping, Video, Smart, and Discovery. Select Search > Click Continue.
Choose the ways you'd want to achieve your goals (e.g., store visits, app downloads, etc.)
Step 3: Select campaign settings
General settings
At the top of the page, you'll see the campaign type and goal you've selected.
Fill in the name of your campaign in the "Campaign name" field.
Mark "Search Network." Note that you have 2 options for Networks: Search Network and Display Network - you should create a separate campaign for your Display ads. We'll discuss Display ads in detail in our next guide.
Click "Show more settings" to select start and end dates for your campaign, adjust the campaign URL options, and access Dynamic Search Ads settings.
Targeting and audiences
Locations > Select locations to target (e.g., All countries and territories, United States and Canada, United States, Enter another location, Location options). Make sure to select all countries you ship your products to - this will maximize your reach.
Languages > Select the languages your customers speak.
Audiences > Select audiences for your campaign. You can create audiences based on your customers' interests, habits, search behavior, interactions with your Shopify store, etc. In this way, you can create extremely targeted ads with tailored messages. This will result in more clicks and more conversions.
Budget and bidding
Budget > Enter the average amount you'd like to spend daily. Note that you may exceed your daily budget on some days, but on others you'll spend much less. Thus, there's no chance that you'll exceed your average monthly budget - your average monthly budget is your average daily budget multiplied by the average number of days in a month. Also, note that you can change your budget at any time.
Bidding > Choose your bid strategy (e.g., Conversions, Target CPA, Target ROAS, Maximize clicks, Maximize conversion value, Target impression share, Manual CPC, etc.).
Click "Show more settings" to access conversions, ad schedule, and ad rotation.
Note: Setting up your budget and bid strategy is a broad and complex topic which we'll discuss in another guide. If you aren't experienced with Google Ads and have trouble setting up your budget, consider contacting a Shopify Expert who can help you.
Ad extensions
Here you can set up sitelink extensions, callout extensions, and call extensions for your ads. You can also add your own ad extensions.
Step 4: Set up ad groups
Step 5: Create ads
To create a new text ad, you need to:
Copy and paste its landing page URL in the "Final URL" field
Write the Headlines (you have 30 characters per headline)
Write the Descriptions (you have 90 characters per description)
Edit the Display pat
Select Ad URL options
Click Done
Repeat the process 3 times for each ad group you create. The best practice is to have 3 ads per ad group - this maximizes your chances for conversions and allows you to provide a more relevant customer experience.
Note that the 3 ads you create should be unique. Each ad should add value, convey a different message, highlight a different USP, or even cater to a different audience.
Step 6: Confirmation
Congratulations! You've set up your campaign. Here you can review your campaign summary (start and end date, locations, languages, budget, goal, bid strategy, ad groups, keywords, etc.) and view daily estimates for clicks and cost.
Now that you know how to set up a search campaign, let's move on to some of the best practices on writing effective ad copy.
Creative tips
Engaging ad copy is paramount to the success of your search campaigns. In this section, we'll share some tips on making the most of the 270 characters you've been given.
Source: About text ads
Your main goal is to say more with less words. So, choose them carefully. Get in your customers' shoes. For example, if you sell furniture and home decor, ask yourself "What would make me click on an ad for a pillow / candle / bedside table / bed linen / etc.?" This will give you a better idea of what type of information to include in your ad copy. Then, you need to come up with a way to present it in an enticing, yet, non-intrusive manner. But let's be more specific. Here are some of the best practices for creating effective ad copy for your Search campaigns:
Write powerful headlines. Instantly catch your customers' attention with an offer (e.g., On Sale Now, 15% Off Climbing Gear, etc.) or a benefit (e.g., Free Shipping, Save 3 Hours In The Morning, etc.). Make sure your headlines don't repeat the same information. Instead, they should complement each other.
Optimize your headlines for your target keywords. Note that your target keywords don't have to be in all headlines - in fact, this is impossible if you want your ad to make sense and not look spammy. Instead, you can include your target keyword in the first headline, and use the second headline to highlight a benefit. For example, in this ad the first headline says "Personalized Jewelry", and the seconds builds on it with "30% Off + Free Customization" - not one, but two benefits are highlighted, and they both complement the first headline.
Use your descriptions to tell your customers why they should buy your products. Again, you can highlight a benefit (e.g., "Always handmade"), a USP (e.g., "Fair Trade"), or say what makes your brand special (e.g., "Shop fair trade jewelry and support global artisans to continue their craft").
You can also talk about your environmental impact. For example, if your product is made of 100% recycled materials, mention it. If you have a higher goal, such as planting a tree for every purchase, or donating money to an organization, say it. If you sell eco-friendly products, your audience is eco conscious as well - this type of message will appeal to them more than "Free delivery" and "Next-day shipping".
Use promotions to catch customers' attention (e.g., 50% Off, Extra 10% On Discounted Items, 20% Off Summer Essentials, etc.). You can even include a discount code and an end date - stating when the promotion ends will create urgency.
Use numbers and be specific (e.g., Buy Now For $34.99, Over 99% Customer Satisfaction, 7895 Happy Customers, 10,000+ Orders Shipped, Kids Sweaters Starting at $2.79, etc.).
Build trust with statements like "Free And Easy Returns", "Money-back Guarantee",""X Years Warranty", etc.
Write enticing and clear CTAs. Make sure they are short and benefit-oriented (e.g., "Buy Now And Get An Extra 5% Discount", "Order Today And Get $20 Off Your Next Order", etc.).
If you have a brick-and-mortar store, include work hours and an address to catch the attention of local customers.
Ultimately, the best strategy is to test different ads with different messages, and learn along the way - find out what works for you, which offers your customers find most enticing, what type of messages resonate with them, etc. Get inspired → 50 Google Ads examples (and why they work)
Conclusion
Advertising on Google will help you grow your business, expand your brand reach, tap into new markets, increase brand awareness, generate leads, drive sales, build brand equity, and more.
We hope this guide will help you set up your first Search campaign, write more engaging ad copy, and achieve outstanding results. But if you don't have the time, or feel that you need assistance, you can always contact a Shopify Expert and outsource Google Ads management.
If you have further questions, want to share your experience, or think we missed something, just leave a comment below. Next, we'll talk about Google Display campaigns. Stay tuned!