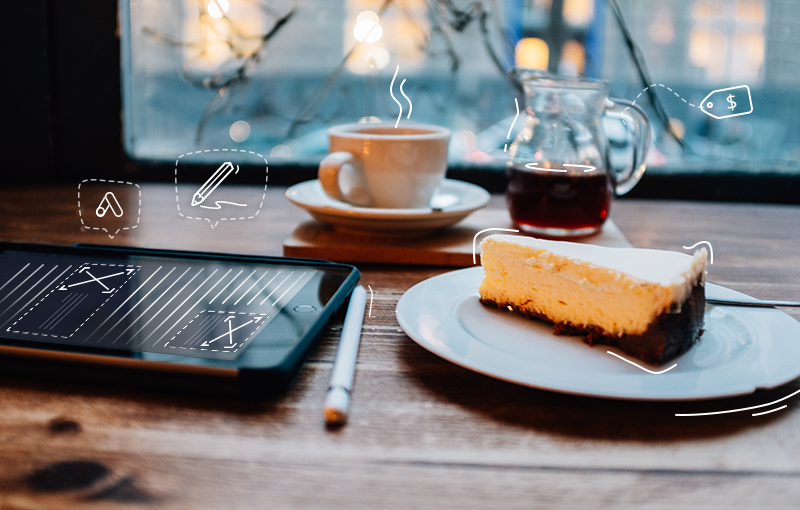 Have you ever had the feeling that Google can read your mind? That it knows exactly what you want or need? That it shows you the perfect ad at the perfect moment?
Google Display ads are the reason for this to a great extent. Today, we'll show you how to leverage them. We'll talk about what they are, how they can benefit you (more specifically, we'll talk about the benefits of remarketing), how to set them up properly, and more. We'll also share a ton of inspiring examples.
If you're a PPC newbie, we recommend checking the previous three guides of our Google Ads series before reading this article:
Overview
What are Google Display ads?
Google Display ads appear on websites, social media platforms, and mobile apps that are part of the Google Display Network (GDN). An interesting fact about the GDN is that it consists of over 2 million websites and reaches over 90% of the people on the internet. This is a large-scale reach across different devices, which equals a ton of exposure. Besides, since the GDN is "designed to help you find the right audience," Display ads are extremely targeted. Learn more → About Display ads and the Google Display Network & Where your ads can appear
Display ads come in all shapes and sizes. Video ads (yes, all these YouTube ads!), banner ads, interstitial ads, Gmail ads, and rich media ads are common examples of Display ads - you can choose the format that conveys your message and presents your brand in the best light.
Image source: Google Ads Tutorials: Meeting your goals with Display
How can Google Display ads benefit you?
The benefits of advertising on Google are numerous. And Google Display ads, in particular, can help you:
Increase brand awareness and consideration
Capture potential customers' attention earlier in their buying journey
Acquire new customers
Engage existing customers using audiences, i.e., similar audiences and in-market audiences
Recapture the attention of people who have already visited your Shopify store
Maximize conversions using automated targeting
Get higher ROI using automated bidding
Easily measure your success and define which ads perform best, i.e., drive the most targeted traffic to your Shopify store, drive the most conversions, have the highest ROAS (Return On Advertising Spend), and more.
Now, let's have a closer look at the biggest benefit of Google Display ads and one of your most powerful marketing assets - remarketing.
The power of remarketing
Image source: About remarketing
Remarketing allows you to reengage people who have already interacted with your business, e.g., they have visited your Shopify store, used your app, etc.
How? By allowing you to strategically position highly relevant ads across the internet, i.e., Google and the Google Display Network.
In this way, you put your business in front of people who are extremely likely to convert because they have already expressed an explicit interest in your products, services, brand, etc.
So, how can remarketing benefit you? Remarketing helps you increase brand awareness, drive targeted traffic to your Shopify store, and increase conversions. But, moving past the obvious, remarketing can help you deal with cart abandonment more efficiently and achieve outstanding results on a reasonable budget.
There are several types of Google Ads remarketing:
Standard remarketing - Display ads on websites and apps on the GDN
Dynamic remarketing - Display ads for specific products people viewed on your website, i.e., dynamic remarketing ads are more personalized than standard remarketing ads. They also have a higher CTR (click-through rate) and conversion rate.
Remarketing lists for Search ads - Display ads on the SERPs
Video remarketing - Display ads on YouTube and Display Network videos
Customer list remarketing - Display ads across different Google products (when people are signed into Google)
Learn more → About remarketing
To use remarketing, you need to choose a campaign type that is supported - either a Display Network campaign, or a Search Network campaign. In this guide, we'll focus on Display Network campaigns.
All you need to do is create a campaign > choose "Display Network" as a campaign type > select "Drive action" > "Buy on website" > Continue to campaign settings and set up (which we'll discuss in the next section).
After you've filled in the campaign details, create an ad group  > Click on "Audiences" (under "People: who you want to reach") > "Remarketing" (select remarketing lists for your campaign). Learn more → Create a website remarketing list
Build a successful Google Display campaign
Step 1: Sign in to Google Ads
If you still don't have a Google Ads account, set it up. Learn how to create a Google Ads account → Google Ads sign-up guide
Step 3: Create a campaign
Click + NEW CAMPAIGN
Select a goal for the campaign (e.g., Sales, Leads, Website traffic, Product and brand consideration, Brand awareness and reach, App promotion). You can also create a campaign without a goal's guidance > Click Continue. Note: In terms of Display campaigns, it is a good practice to optimize for sales, leads, or website traffic. If you have a bigger budget, you can optimize for product and brand consideration or brand awareness and reach.
Select a campaign type. There are several types of campaigns: Search, Display, Shopping, Video, Smart, and Discovery. Select Display > Click Continue.
Select a campaign subtype
There are three subtypes of Display campaigns:
Smart Display campaigns - if you're a Google Display ads newbie, Smart Display campaigns are a good place to start as they automatically adjust your bids, audience, and creative assets (e.g., headlines, descriptions, and visuals). To be eligible for Smart Display campaigns, you must use conversion tracking. Keep in mind that in this case, you don't have control over targeting - Google uses the information it has about your Shopify store visitors and people who might be interested in your products or services and tries to reach them with your Display ads.
Standard Display campaigns - these campaigns should be built with automation, Smart Bidding, responsive Display ads, and performance audiences. With a Standard Display campaign, you can target remarketing audiences, in-market audiences, affinity, and more.
Gmail campaign - these campaigns target people as they browse their emails.
Select the ways you'd like to reach your goal - this will help you get better results. Enter the URL of your Shopify store > Click "Continue."
Step 3: Fill in your campaign details
Once you've completed step 2, you'll be redirected to a campaign settings page.
The first panel contains the type of your Display campaign (e.g., Smart Display campaign) and its goal (e.g., Leads). You can change both.
Fill in your campaign name in the "Campaign name" field.
Select locations to target. Make sure to select all countries you ship your products to - this will maximize your reach. There are also some advanced location options. For example, you can choose to target people who show interest in your target locations, live there, or regularly visit them. You can also choose to exclude specific locations or people who show interest in them. Note: If you don't offer worldwide shipping, it is better to select the option "People in or regularly in your target locations" instead of "People in, or who show interest in, your target locations," as choosing the latter may result in your ads reaching people who might not be able to purchase your products.
Select the languages your customers speak.
Set up your bidding.
Select your goal from the "What do you want to focus on?" drop-down. You have two options: Conversions or Conversion value.
If you don't want to use the Maximize conversions bid strategy, mark the "Set a target cost per action" checkbox and set a target CPA (cost-per-action).
You can also select a bid strategy directly, but Google doesn't recommend this option.
Deciding on a bidding strategy and setting up bidding properly requires a certain level of PPC expertise. If you don't have such knowledge in-house, you can contact a Shopify Expert who can help you manage your Google Ads account and set up your Search and Display campaigns.
Set up a budget you're comfortable with. If you're finding it difficult to define your daily budget, take your monthly budget, and divide it by 30. Your average monthly budget in Google Ads is your average daily budget multiplied by the average days in a month (30).
If you want to run dynamic ads, leave the "Use dynamic ads feed for personalized ads" checkbox marked (marked by default) and select a data feed. You can manage your data feeds in your Google Merchants Center account.
Click on "Additional settings" to select start and end dates for your campaigns.
Here you can also choose specific conversion actions or conversion action sets.
You can also opt out to show your ads on content that doesn't fit your brand. For example, you can exclude specific audiences, sensitive content, and specific types of content.
You can upload up to 15 images and 5 logos, up to 5 headlines (30 characters each), 1 long headline (90 characters), up to 5 descriptions (90 characters each), and up to 5 videos. You also need to fill in your business name, set your ads' additional format options and URL options.
Note: Under Ad URL options, you can choose to test a different final URL for mobile. You can also select more options, such as choose a call to action text (e.g., Shop Now, Contact Us Sign Up, Visit Site, etc.) or custom colors.
Once you've completed all these steps, click "Add to ad group." And there you have it - you have a Display ad. Google then mixes and matches all the creative assets you've provided (e.g., images, logos, videos, headlines, and descriptions) to create the perfect combinations and show your ads to your target audience.
If you want to, you can create another Display ad with its set of headlines, descriptions, images, etc., but keep in mind that it may not be necessary as there is already a large number of variations of your ad (especially if you've provided all creative assets). So, for starters, you can create one Display ad, see how it performs, and act accordingly.
Click on "Create campaign." You'll be redirected to a confirmation page where you can review your Display campaign - start and end date, locations, languages, campaign goal and subtype, campaign budget, and bid strategy. You'll also be able to view your ads.
Et voilà, you have a Display campaign! Now, before we wrap things up, let's have a look at several amazing Display campaigns. As a writer, I've always believed that getting inspired is half of the creative process. So, I hope the next section inspires you to create beautiful campaigns that drive amazing results!
Get inspired
Before we dive into 11 state-of-the art Display campaigns, I'd like to take a minute to review the best practices for creating Display campaigns (as recommended by Google). So, here they are:
Include the recommended number of assets (e.g., 5x headlines, 5x descriptions, all images and logos, 1 long headline, and your business name).
Use high-quality images without edges and borders. Avoid logo, text, and button overlays. Avoid digital composite backgrounds, as well as all-white backgrounds.
Create an engaging copy. Write compelling headlines. Keep in mind your long headline should be unique and descriptive. It should make sense, and customers should understand it without having to read any of your descriptions.
Make sure all headlines and descriptions are interchangeable, distinct, and unique. They should highlight your value proposition, USPs, and more.
Upload your logo in 1:1 and 4:1 aspect ratio. Your logo should be centered and not too close to the edge of the image. Don't add additional details. Google prefers transparent logos. Logos with white backgrounds are also acceptable.
Use your conversational brand name rather than your business's legal name.
Always pair your Display campaigns with a Smart Bidding strategy.
Set up your campaign several days before the launch as changes in the Display Network can take between 12 hours and a day to apply.
Source: Google Ads Tutorials: Building successful Display creative
And now, let's move on to the amazing campaigns we mentioned above and what you can learn from them.
Display ad #1: Lexus
Takeaway: Use a powerful image to catch your customers' attention. Engage them with an intriguing and thought-provoking copy. Write a short and enticing CTA.
Display ad #2: Brita
Takeaways:
Write a catchy ad copy. Talk about your social or environmental impact.
Make sure your button and CTA stand out - contrasting bold colors are a great way to go (if this matches your brand image).
Display ad #3: FinalStraw
We've already talked about how great FinalStraw is. Learn more → Shopify Studios: Uncovering the Power of Good Storytelling
What we love about their ad (besides the awesome visual):
They state exactly what their product is while highlighting its benefits: "reusable" and "collapsible," which translates to "good for the environment and easy and convenient to use!" Amazing, right?
They use their #SuckResponsibly hashtag, which raises brand awareness - what their brand stands for, what they fight for, and what they're against. In this way, they subtly engage their customers with their brand story and spark a conversation about their values and mission.
Display ad #4: Samsung
What we love about this ad:
The product image is beautiful
Both the brand name and the product name are prominently displayed
The copy is amazing - it is short, catchy, and benefit-oriented
The contrasting colors create a bold and dramatic effect
Display ad #5 & #6: 1800 contacts & audible
Takeaways:
Highlight a promotion, such as a discount, e.g., "10% off all contact lenses," "Save 66% on your first 3 months," "25% off winter essentials," "Up to 60% discount on scented candles," etc.
Create buttons with short and catchy CTAs, such as "Get this deal" and "Buy/Shop/Order now."
Display ad #7: purple
This is another way to leverage the power of numbers - "Save up to $500", "Sign up and get $15 on your first order", etc.
Also, notice the balance between the colors, the "Cyber Monday Sale!" copy, and the festive image. This creates a sense of harmony and perfectly resonates with the products purple sells (mattresses and pillows).
Display ad #8: Express
This is another way to approach Cyber Monday Display ad creation - you can use a beautiful image displaying your products in the best light, highlight an enticing promotion (such as "50% off everything + free shipping"), and a bold "Shop now" button. Important note: If your statement doesn't apply to every product in your Shopify store, make sure to mention this in the ad - notice how Express has subtly stated that "exclusions apply" and invite customers to visit their website for more information.
Display ad #9: pact
Pact has opted for an eye-catching background in bold colors. It's fresh and beautiful - you can almost smell the flowers!
They've complemented the image with a short, bold statement written in big, bold letters - "Earth's favorite clothing brand." This is a smart way to talk about your environmental impact and your attitude towards the product you create, especially in a Display ad promoting your Earth Day deals.
Display ad #10: The Ridge
Takeaways:
Use the power of images to showcase the benefits of your product, i.e., highlight a USP, show how it is better than other similar products, etc.
Complement this with a well-written elegant copy.
Display ad #11: Shopify
The takeaway here:
Keep it simple.
Let your brand speak for you - from your logo and brand name to the color that every merchant knows :)
Conclusion
So, you now know what Display ads are and how they can benefit you - from customer acquisition to remarketing and abandoned cart recovery.
We hope this guide will give you you the knowledge (and the courage) to set up your first Google Display campaign. But if you still think that you may need help, don't hesitate to contact a Shopify Expert with an experience in Google Ads.

We also hope that the examples we shared will inspire you to get creative. Remember, the most important thing is to stay true to yourself and do a ton of testing - this is the only way to understand what works best for you, your business, and your customers.
If you have further questions, think we missed something, or want to share your personal Google Display ads experience, just leave a comment below!
And stay tuned for the next article of our Google Ads series - in a few weeks, we'll tackle Google Shopping ads.