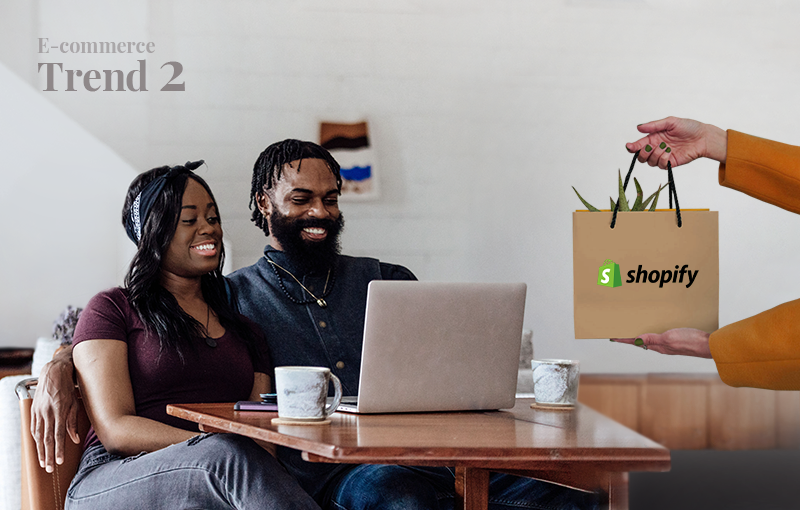 This is the second article of our blog series dedicated to emerging trends that will shape e-commerce and Shopify in 2023 and the years to come.
If you've missed our introductory guide and the first article of the series, now is the perfect time to read them:
Today, we'll talk about trend 2: Long-term customer relationships take center stage! Let's dive right in!
In recent years, people have become more experienced online shoppers. As a result, they have higher expectations. The omnichannel shopping experience is just one piece of the puzzle. Customers also expect a personalized shopping experience, on-demand customer service, and lightning-fast order fulfillment. As senior e-commerce consultant Kurt Elster, host of The Unofficial Shopify Podcast, says: "That's the new bar for good."
In addition, customers have become more selective about the brands they shop from - people trust and buy from brands that align with their values and beliefs, and respect their customers. Therefore, if you want to succeed, you must communicate your brand personality, emphasize on transparency, and focus on building valuable long-term customer relationships.
To build strong and long-lasting connections with your customers, you must:
Be transparent
Leverage Shopify's multi-language feature
Create a consistent and highly personalized customer experience
Design a stellar post-purchase experience
Following these four strategies will help you raise brand awareness and boost confidence in your products, both of which are essential to building a sustainable and loyal customer base. Also, it will help you:
Align your activity with your brand goals
Invest in short-term performance marketing and long-term brand building
Highlight your USPs and brand values at every customer touchpoint and across different online surfaces
So, what are we waiting for? Let's see how you can actually apply each of the four strategies mentioned above!
Be transparent
Transparency is the key to consumer trust and brand loyalty. Clear and honest communication is an essential element of transparency. An open and unequivocal brand narrative will benefit you in several ways - less customer support, increased customer satisfaction, increased brand loyalty, and a more authentic shopping experience, to name a few.
One area where you should pay extra attention to transparency and unambiguous communication is order fulfillment. Today's customers expect fast, free (or cheap), and on-time delivery. Moreover, they look for estimated delivery times before placing an order.
Therefore, you must clearly communicate shipping costs and delivery times with your customers - and you must meet this requirement across different touchpoints in the buyer's journey (from your homepage to the checkout page).
But, more importantly, you must deliver on your promises - failing to meet customer expectations will result in a substantial decrease in consumers' trust and brand loyalty. Also, it will negatively impact your bottom line - when packages are delayed but consumers aren't informed on time, 69.7% of customers would be less likely to shop from that retailer again (source: project44).
Therefore, if there are unexpected delays or other order fulfillment issues, you must promptly communicate them with your customers - maximum transparency and proactive communication are essential to your success. Also, this presents yet another opportunity for you to reduce cart abandonment, build a stellar end-to-end shopping experience (from brand discovery to the supply chain), and set yourself apart from your competitors.
Leverage Shopify's multi-language feature
With cross-border purchases gaining more popularity, language localization is not only a key brand differentiator but an absolute must. In fact, 67% of global consumers have made a cross-border purchase in their lives, and almost 1 in 5 people believe that a lack of language translation is a big barrier to purchasing on a foreign site (source: HubSpot).
Besides, selling in multiple languages will help you deliver a better shopping experience, i.e., one that is more consistent, more informed, and highly personalized. Running a multilingual Shopify store will benefit you in other ways as well: you'll increase your market share and popularize your brand globally. In addition, offering localized content will boost your credibility and make international buyers feel closer to your brand and products. All this will positively affect your bottom line.
Luckily, running a multilingual Shopify store is easy. There are several things to consider, but, most importantly, your store theme must be compatible with Store Languages (Shopify's multi-language feature), and you must install an app that works natively with the feature. One such app is Translation Lab. With Translation Lab, you can:
Manually translate your checkout and every translatable resource (e.g., products, collections, blogs, pages, emails, meta fields, shops, links, product variants, etc.).
Automatically translate your entire store into any language using Google Neural Machine Translations.
Detect the preferred language of your customers and load your store in the most appropriate language.
Place a customizable language switcher in your store.
Sell in 160+ currencies.
Translate product options in bulk.
Export/Import translations.
Change the default language of your store.
Migrate your theme translations from one theme to another.
Translation Lab has a free plan and three paid plans. Pricing starts from $9.99/month.
Keep learning about localization and selling in multiple languages:
Create a consistent and highly personalized customer experience
Creating a consistent and rich end-to-end customer experience will be a key brand differentiator in 2023. You must reach your customers at every touchpoint of their journey and build a stellar experience that highlights your unique brand identity, selling points, and values. This includes selling on as many sales channels as possible - your online store, social media platforms, etc.
You can use Shopify to sell your products on different sales channels - you can connect each sales channel to Shopify and keep track of your products, orders, and customers. The best part is that you have a unified view of all your sales channels, making management a breeze!
Shopify supports several online sales channels:
Each sales channel has a dashboard that contains a detailed summary of the channel's recent sales and traffic. Each sales channel is equipped with easy-to-use templates and drag-and-drop features that require no coding skills.
Important: Some sales channels require or prohibit certain information in your product listings. Others require you to ship orders within a specific timeframe. Learn more about the available sales channels and how you can use them: Shopify help center, Sales channels, Available online sales channels
Also, note that you may need to change your store's settings before you can add a sales channel (because of specific eligibility requirements). To add an online sales channel to your Shopify store, open your Shopify admin > click the "+" button beside the Sales channels heading (left sidebar).
An "Add sales channel" pop-up will appear.
Select the sales channel you wish to add to your store > Click "Add channel." Note that if your store isn't eligible for a sales channel, the channel appears as Unavailable in your Shopify admin. To check why your store isn't eligible, click "You can't add this channel."
Important: When you add a sales channel in Shopify, all your existing products become automatically available on the channel. If you don't want a product to be available on a particular channel, you must remove the channel from the product's availability. Learn more > Make products available on your sales channels
To remove an online sales channel from Shopify, open your Shopify admin > click Settings > Sales channels > Select the channel you wish to remove > Click Remove. If you wish to give a reason for removing the channel, enter it in the field > Click to confirm.
Design a stellar post-purchase experience
As third-party cookies are phased out, brands must become more creative and discover new ways to attract and retain customers and, more importantly, build strong and long-lasting consumer relationships. One way to achieve this is to design an outstanding post-purchase experience - in this way, your customers will feel that your brand truly cares about them, which will create a sense of exclusivity and boost brand loyalty. In turn, this will entice them to keep coming back to your store.
So, how do you design an outstanding post-purchase experience?
There are several ways to create a seamless and engaging post-purchase experience:
Provide on-demand customer support.
"Customer service post-purchase is incredibly important. If someone is purchasing something that they've never bought before that requires an educational component, you need to have content for that. Create how-to videos, show how other people are using your products, and build a community around them to really own that customer relationship."
Kelly Vaughn, Taproom
Leverage content. Content is a powerful tool that can help you enhance the post-purchase experience - from the order confirmation email and the "Thank you!" note to your social media content and blogs. There are different ways in which content can help you bring the post-purchase experience to the next level. For example, you can use it to provide extra value - you can create informational blog posts that focus on a specific product (or a group of products) that go into incredible detail, describing product features, uses, etc. You can also use your blog to tell inspiring stories, share customer testimonials, and put your brand personality in the spotlight. Another great way to leverage the power of content and enhance the post-purchase experience is to create original and honest social media posts, reels, videos, and lives (e.g., "Q&A sessions," interviews with influencers or brand partners, and more).
Learn more about content and how it can help your business thrive:
Use Shopify Shop. In Shopify's words, Shop is "the first, brand-first sales channel designed to increase your customers' lifetime value." It was built with better shopping experiences and brand loyalty in mind.
Important
"The Shop channel is available for merchants in Canada, the United States, Australia, Ireland, and the United Kingdom. Specific requirements are needed to enable some of Shop's features. You can check your store's status on the settings page of the Shop channel. Or read Shop's merchant guidelines."
Source: Shopify
How will Shop help you optimize the post-purchase experience?
The goal of optimizing your post-purchase experience is to build strong and long-lasting relationships with your customers, increase brand loyalty and the average customer lifetime value. The key to achieving this, is to nurture your existing customers. Common and successful post-purchase tactics include:
Sending order confirmation emails and providing order status and delivery tracking
Sending detailed receipts with purchase details
Doing marketing focused on product value and consumer happiness
Offering loyalty programs and discounts
Creating an honest brand narrative that engages your customers and encourages them to become a part of the conversation
Shopify Shop is a sales channel that provides and automates all this for free. Basically, Shop is a convenient mobile app that brings merchants closer to their customers by seamlessly integrating every post-purchase touchpoint from their store.
With Shop, you can build valuable and long-lasting relationships with your customers. Shop provides a direct line of communication between you and your customers and an environment built to support the entire shopping journey.
Ultimately, for customers, Shop is a personal shopping assistant app that:
Streamlines every interaction with your brand into one mobile app experience.
Promotes consumer trust and brand loyalty by helping you provide better customer service across different touchpoints and along the entire buyer's journey.
Increases confidence in your products and drives repeat purchases and continuous revenue.
Provides an easy and swift one-tap checkout.
Provides accurate order tracking.
Most importantly, with Shop, you can:
Drive repeat purchases with targeted marketing automation (such as push notifications that send a discount for your customer's next purchase).
Make in-app checkouts easy and delightful. Also, you can leverage improvements like multi-store checkout. This will offer you more opportunities to interact and connect with your customers.
Use in-depth data to optimize for more repeat purchases on desktop and mobile - Shop's detailed analytics dashboard helps you track Shop's impact, optimize sales, and evaluate how Shop performs against other sales channels. You can gain powerful insight, such as how many of your customers check out with Shop Pay, how many follow your store profile, how post-purchase campaigns are performing, and more.
Add the Shop channel or learn more about Shop: Follow The Post-Purchase Path For Long Term Growth
Wrap-up
As you can see, building and nurturing long-lasting relationships with your customers will be critical to your success in 2023 and for many years to come. There are three ways to achieve this: offer on-demand customer support, leverage content, and create a stellar post-purchase experience with the help of Shopify Shop.
If you have further questions, just leave a comment below! And stay tuned for the next article of our e-commerce trends series. Next, we'll tackle trend 3: Brand identity becomes paramount!