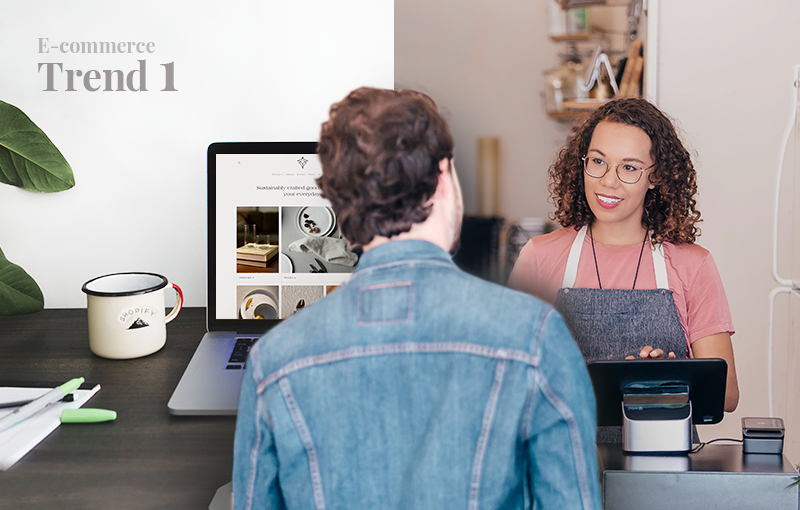 This is the first article of our blog series dedicated to emerging trends that will shape e-commerce and Shopify in 2023 and beyond.
If you've missed our introductory guide, now is a great time to read it: 5 Trends That Will Shape E-commerce in 2023, and Beyond. You will learn more about the current e-commerce landscape, the challenges merchants face, and what you should consider going forward.
Today, we'll talk about trend 1: The rise of omnichannel retail and multi-channel experiences. Let's get to it!
Why you should jump on the omnichannel commerce trend?
"The best brands I have spoken to understand that digital and physical retail don't operate as silos: it's all just retail.
There is a blending of retail happening right now: physical stores are becoming fulfillment centers, and online stores are becoming catalogs. The role of the in-store employee has also been reimagined to become experience hosts.
The opportunity in retail lies in creating a seamless experience online and offline. Every successful retailer needs to look at these different channels not as different businesses with different P&Ls, but instead as a seamless experience. That's what consumers want."
Harley Finkelstein, Shopify President
Today, commerce is omnichannel - the digital and physical shopping experiences are no longer two separate entities. Today's customers want a seamless shopping experience that includes both. For example:
They want to be able to order a product online and pick it up (or return it) in-store. For consumers, this saves both shipping costs and wait time. For merchants, it could increase the average order value and CLV (customer lifetime value). It's a win-win!
They want to try on a product in a physical store and be able to buy it online (if they're not instantly sure they want to purchase it). Therefore, having an online store is no longer nice-to-have but a must.
They want to be able to buy a product in-store but have the merchant ship it to their home. Offering this is a must if you have a showroom instead of a traditional physical store (showrooms typically have much less inventory) or sell heavy and voluminous products such as furniture. But even if customers are physically able to carry around their purchases, they may not always want to or have the option to. Offering to ship their in-store purchases directly to their homes will add convenience. In turn, this will increase customer satisfaction and brand loyalty.
Virtual shopping is quickly ramping up. Consumers crave an immersive shopping experience because it allows them to enjoy all benefits of in-store shopping from the comfort of their homes. They can virtually try and compare products, connect with retailers (and brand representatives) to ask questions, get recommendations or advice, and much more. In 2023, as cutting-edge technology (e.g., AR/VR, and 3D models) becomes more accessible, more brands intend to offer virtual shopping experiences. Lucky for you, implementing such experiences in Shopify is easy. Learn how to add VR and AR to your store: Shopify VR and AR: The Key to Immersive Shopping Experiences
Appointment shopping is here to stay. Appointment shopping was an easy way for retailers to adhere to social distancing guidelines during the pandemic and keep foot traffic at bay. But it offers much more benefits. First, it provides immense convenience to shoppers. Second, it creates a sense of exclusivity and makes customers feel special. Third, it helps brands deliver a more personalized shopping experience. Last but not least, it helps brands connect with their customers on a more personal level and build valuable long-term relationships with them (that can extend into the digital realm). All this can help you set yourself up for immense success!
Ultimately, we can conclude that consumers crave in-store shopping experiences after the pandemic. As a result, more digitally native brands are entering the brick-and-mortar space. If you don't already have a physical store, you should at least consider opening a showroom or pop-up stores and start selling in-person with Shopify POS. Let's elaborate!
What is Shopify POS, and how can it help you jump on the omnichannel commerce trend?
Shopify POS (Point of Sale System) offers:
Powerful POS software that allows you to turn any mobile device into a point of sale. The Shopify Retail POS app is available for all Android or iOS smartphones and tablets.
Customizable POS terminal. You can personalize your POS system and tailor it to your business so that your most-used apps, discounts, and products are always at your fingertips.
Fully integrated hardware. Shopify POS connects seamlessly with Shopify card readers and compatible hardware accessories.
Also, Shopify POS offers all the tools you need to run your retail store:
Advanced inventory management
Custom staff permissions
Unified reporting and analytics
Ultimately, with Shopify POS, you can offer a unified and frictionless shopping experience - from your online storefront to the checkout line in your physical store. More specifically, you can offer the following shopping options:
Browse in-store, buy online
Buy online, pick up in-store
Buy in-store, ship to customer
Buy anywhere, return anywhere
This means that, with Shopify POS, you can offer immense convenience throughout the entire shopping experience. This will help you turn one-time buyers into loyal customers - you can nurture meaningful relationships and deliver a highly personalized shopping experience through fully synced customer profiles, effective marketing, and integrated loyalty programs. View all Shopify POS features
In addition, you can count on powerful POS hardware that comes with built-in payment processing and competitive credit card rates. You can accept all major payment methods. Learn more about POS hardware
Ultimately, Shopify POS will not only help you jump on the omnichannel commerce trend, but also:
Integrate your online and retail store data into one back office. You'll be able to track customer data, inventory, sales, and much more. Also, you will have access to comprehensive and detailed reports, which will allow you to spot opportunities early on. Learn more: 18 Essential Retail Reports to Evaluate Store Performance
Help you minimize the distance between business and consumer, and build more meaningful customer relationships.
Create a sense of community and inclusivity.
Promote brand loyalty.
And much more!
As Shopify puts it, Shopify POS is "the POS system with everything you need to sell in person, backed by everything you need to sell online."
Wrap-up
So, there you have it - omnichannel commerce is a very exciting challenge filled with even more exciting opportunities! And it is here to stay! So, it is definitely something you should look into - you can use Shopify POS to get a head start and quickly get ahead of your competitors.
If you have further questions, just leave a comment below! And stay tuned for our article on trend 2: Long-term customer relationships take center stage!