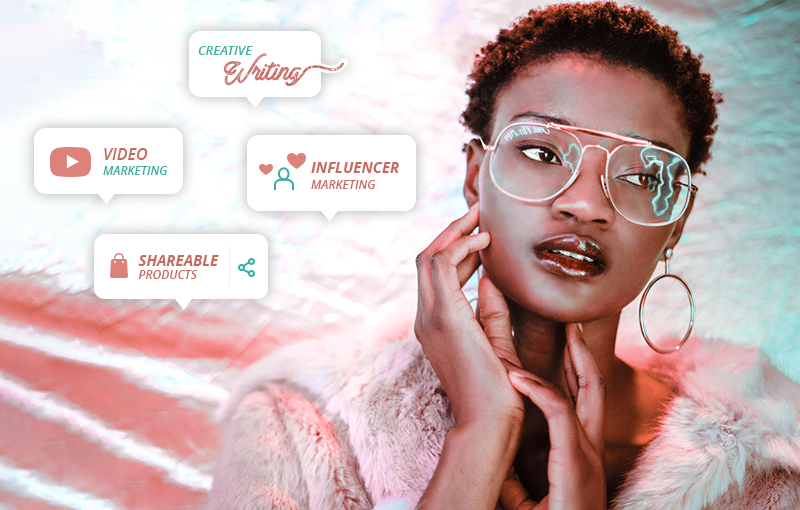 Today, we'll dive into 4 effective e-commerce link building tactics and how Shopify merchants can leverage them.
Overview: The top 4 link building tactics for e-commerce
Video marketing: If you make it great, they'll share it
A picture is worth a thousand words. How many words do you think a video is worth? According to McQuivey's equation, video is worth 1.8 million words per minute.
And did you know that social video generates 1200% more shares than text and images combined (G2 Learn Hub)? In fact, 92% of mobile video viewers share videos with others (Social Media Week).
In this section, we'll take a look at what makes video so powerful and how Shopify merchants can leverage it.
Video marketing explained in 5 steps
You have an amazing product
You make a video about the product
You use the video to promote the product
People (e.g., influencers, brand ambassadors, customers, etc.) share the video
More prospective buyers learn about your brand (and share your video) = More sales opportunities
You can also use video content to promote a service, a campaign, your brand, or business. Popular video marketing examples include explainer videos, product videos, vlogs, webinars, tutorials, live streams, interviews, testimonials, ads, and more.
How to use video marketing for link building: The psychology of social sharing
As the awesome kurzgesagt people say: To make a video, first you need a topic.
And to make a video that gets shared, you need to do your homework, i.e., research what type of videos will appeal to your customers (both existing and potential).
In general, people watch and share videos that are useful, engaging, raise awareness, etc. So, ask yourself:
What are your customers' pain points? Create videos that address your customers problems - these are the videos they will find useful. For example, if you sell kitchenware, you can make food videos and include them in the recipes on your blog (and share them on Instagram, TikTok and Snapchat). You can also make tutorial videos on how to organize your kitchen, your fridge, how to store food so that everything stays fresh for longer, or where to buy the best Italian pasta in New York. You can even collaborate with chefs, or food bloggers. Get inspired: Tasty, Jamie Oliver's website, Bettina's Kitchen.
What are your customers' interests? Create videos that focus on these topics - these are the videos your customers will find engaging, fun, entertaining, etc. Let's say you sell beautiful leather bags and suitcases. Your customers are people who love traveling, so, one possible way to go about your video marketing strategy would be to film videos featuring your products in different cities across the globe. You can even leverage the power of your best marketers - your loyal customers. I assure you, in this case, UGC videos will be a huge hit!
Try to think outside the box (in this case "the box" is filled with product explainer videos). Focus on topics (closely related to your products or business) that would benefit your customers and add value to your brand.
Ultimately, to create videos that get shared, you need to make people feel something - a sense of adventure, happiness, love, hope, admiration, pride, you name it. The psychology of sharing is fueled by emotions and our need to feel that we're a part of something bigger, as well as the need to include our peers in an inspiring narrative about our own values, hopes, dreams, and more.
A few more actionable tips that can help you create videos that will get shared:
How can people make the best use of your best selling products? Do you have any tips? Make a video. But don't make it feel like a commercial, even though you can (and should) include CTAs. Instead, be helpful. Provide value. It's all about finding the balance.
Life hacks/DIY tutorials, like this video by First Media Blossom, have been a huge hit on social media for a while now. So, I highly recommend you considered making such videos.
Success stories are another example of video content that has the potential to go viral. Just check the content Shopify Studios creates - it is inspiring! It makes you want to get moving and do something - it can be as small as drawing a picture of your dog, or baking a pie, or as big as quitting your 9-5 job to become an entrepreneur. Read our take on Shopify Studios
Keep your videos short, sweet, and straight-to-the-point - our attention span is short even without taking into account our everyday busy lives. For the same purpose, make a lot of cuts and change a  small detail in your videos every 10-15 seconds (it could be something small like the angle, it could be a pop-up, a gif, literally anything). This will make your videos feel more dynamic and keep the viewers' attention.
Use subtitles to make your videos more accessible. Not only will more people love and share them, Google will love them as well!
Make sure your videos look, feel and sound professional.
It goes without saying, but optimize for mobile. This is crucial.
Most importantly, be genuine and authentic. Be human.
Get inspired!
Influencer marketing: The case for turning influencers into brand ambassadors


Source (and inspiration): Aylin Koenig (@aylin_koenig)
Influencer marketing is a vast topic that cannot be covered in a single guide (let alone a section of one).
So, today I'm going to focus on answering one very specific question: How will turning influencers into brand ambassadors help you gain more backlinks and increase your brand equity?
It all starts with identifying the right collaboration opportunities.
Choosing the right influencer tier to work with
One important aspect of choosing the right influencers to collaborate with, is defining the influencer tier you'll work with. There are 5 influencer tiers:
Nano influencers (1K-10K followers)
Micro influencers (10K-50K followers)
Mid-tier influencers (50K-500K followers)
Macro influencers (500K-1M followers)
Mega influencers (1M+ followers)

Source: mediakix
Each tier communicates differently with their audience. For example, nano influencers and micro influencers (e.g., @mademoiselleaia, @hannah.straughan) have hyper-niche audiences who, typically, share their views and values. This makes them perfect for super-targeted campaigns. In addition, because they're able to connect with their followers on a more personal level (and even engage in one-on-one conversations), nano and micro influencers are seen as more trustworthy, relatable and authentic. All this leads to higher engagement rates. However, their reach is more limited than, say, the reach of macro and mega influencers (which also means that nano and micro influencers have a smaller impact when it comes to raising brand awareness). But, ultimately, the high engagement rates and the good ROI, make them the perfect choice for small to mid-sized businesses.
Now, if we take a look at macro influencers (full-time bloggers, models, etc. e.g., @chelseakauai, @aylin_koenig) and mega influencers (Hollywood celebrities, Instagram celebrities, etc.), things are very different. Their audience is much bigger and there is little chance for personal one-on-one interactions (which may lead to lower engagement rates). However, since their reach is much higher, working with a macro or mega influencer will help you raise brand awareness and get more people to your store. Of course, the costs will be much higher as well.
Here's a table that will give you a good idea of how prices fluctuate between the different tiers:

Source: webfx
Once you've defined the tier you'll work with, you need to start shortlisting the influencers you'll reach out to. "Okay, but how do I do this?", you may ask. Hopefully, the next paragraphs will give you a better idea.
Shortlisting potential link prospects
At their best, influencers are like magazine publishers. If you picked up a magazine, you'd have a sense of voice and tone, what the magazine stands for, and what the magazine writes about. And with magazine publishing, that's how you would choose whether to associate your brand with that magazine. Apply the same process to influencers.
Neil Waller (co-founder of Shore Projects, co-founder and CEO of Whalar), Source: Shopify
In other words, shortlist the influencers, who:
Are genuine, authentic, considerate, and relevant.
Have similar values to your brand values.
Have a voice and post with purpose. Make sure to work with influencers whose voice matches your brand voice, because they can tell your brand story (and promote your products) in a way your target audience relates to.
Tell stories and write more personal, long-form captions. This establishes a stronger emotional connection between the influencer and their audience. If your brand is included in such a genuine narrative, people would naturally feel you are a business they can trust. As a result, they will not only buy from you, but recommend you to their family, friends, and share a link or two to your website on their own social media profiles. Fun fact: 92% of consumers want brands to make ads feel like a story (Social Media Today) Keep learning: Why telling stories is more important than ads & How to Write Instagram Captions: 9 Tips With Examples
Inspire and motivate you - these are the influencers who will also inspire and motivate your customers (both existing and potential).
Love your product/service/brand and would buy from you - their followers are more likely to become customers in the future.
Have good engagement rates, high activity levels, high social and website authority, and more - you can use a tool like Whalar, BuzzSumo and BuzzStream to get this information and shortlist the most promising prospects.
Ultimately, when shortlisting influencers to collaborate with, think of them as potential partners, because, at the end of the day, influencer marketing is a form of digital marketing, and the most effective digital marketing strategy is to focus on the long-term value, not the short-term benefits.
In other words, you must focus on building long-lasting relationships (i.e., valuable business partnerships) with the influencers you collaborate with, instead of working with them on a post-to-post basis.
Don't go about it thinking: "Let's just see if this influencer can help me clear out the stocks of that product that didn't sell very well last season..." This is a good way to waste both your time, and the influencer's time. Instead, think of how collaborating with an influencer can bring continuous value and mutual benefits to both sides. A good way to achieve this is to start an affiliate program.
Start an affiliate program and turn influencers into brand ambassadors

Source: Viktoria Rader (@vikyandthekid)
Let's say brand X collaborates with influencer Y. Y posts about a product by X (with a link to X's website) and this post brings customer N to X's website. If N buys something, Y gets a percentage of the sale. This is a simple example of how affiliate marketing works - it is a broad and intriguing topic which we'll discuss in detail in another article.
Today, we'll simply focus on the power of brand ambassadors - a brand ambassador is someone (an influencer, a celebrity, a customer, an employee, etc.) who has signed a long-term contract with a business to help them increase brand awareness, gain new customers, make more sales, etc. Brand ambassadors officially represent the brand and everything associated with it (including values, products, services, lifestyle, and more).
Brand ambassadors promote your business, brand, products/service, etc. repeatedly over the course of several months, or years. And, since they use your products, the content they create is authentic and trustworthy.
How can this help you gain backlinks?
For example, if you sell apparel and you nurture a fashion YouTube vlogger into a brand ambassador, they can wear your clothes or accessories in their videos and share a link to your website in the video descriptions. This is a subtle way to get more people interested in your brand and products.
Or, let's say you sell furniture and home decor, and your brand ambassador is a lifestyle influencer on Instagram - even a single picture of them drinking coffee on a beautiful table with a stylish candle on top (both made by you), and a link to your website would drive your sales through the roof. Imagine if you're tagged in several of their posts each month.
And imagine if you sell sports gear and you create a product line with an athlete (who is a brand ambassador), who then shares numerous posts and photos (including Instagram/Facebook/SnapChat posts, tweets, etc.) of the products with links to your website… your sales would grow exponentially!
My point is, when it comes to influencer marketing for the purposes of link building, the winning strategy is to think long-term and be willing to put in a lot of effort to:
Find the right collaboration opportunities
Nurture them into brand ambassadors, i.e., establish long-lasting valuable business partnerships based on trust and mutual goals
Put even more work into the creative process
The task at hand is not an easy one - you need to be patient, meticulous, hard-working, creative, determined, and... did I mention hard-working? But, if you manage to do it, your efforts will pay off - link building will become a natural consequence of your creative collaborations with influencers. And all these backlinks will reach the right people, who will share the link with their family and friends, who, in turn, may share it with their own peers… and so on.
To sum up, you can see how collaborating with an influencer on a single post with a single backlink to your website isn't nearly as effective as establishing long-term partnerships with influencers and nurturing them into brand ambassadors.
Product pages serve two purposes:
Point of purchase
Social sharing
One does not exclude the other. In fact, there is a beautiful correlation between the two - the more a product page gets shared, the more people (potential buyers) land on it; and the more this product page can grab one's attention, the more people will actually purchase the product.
So, the question at hand is: How do you make your product pages more shareable?
There are several factors (or product page components) you must take into account:
Product photos
Product descriptions
Credibility (e.g., reviews, ratings, testimonials, etc.)
Product videos
3D models (if you want to level up your game)
Let's take a closer look at each of these factors.
Product photos
The product photo carousel is the first thing a customer sees when they land on a product page. We all know how important first impressions are, so:
Make sure your product photos are professional (high quality, good light, visually pleasing color palette, etc.)
Upload several images to showcase the product from different angles, or display its most prominent features. A good rule of thumb is to use a single-color background.
Upload images from photo shoots - this will give your customers context and a better perspective as it will help them see how the product looks in a real-life setting.
If you're on a shoestring budget and can't afford to shoot in a professional studio, there are many ways to make your product photos look great (even if you've taken them with your phone camera). The best advice we can give you here is (1) use a tripod, (2) make the most of natural light, and (3) invest some time in mastering the intricacies of working with Photoshop or another photo editing tool (photo retouching is key to making your images look professional).
Product descriptions
As someone who used to write over 20 product descriptions a day for a living, I can tell you firsthand that you mustn't underestimate how important they are.
First, if they are well-written (i.e., provide enough information) they can save you a ton of time in customer support. Which, I don't have to tell you, is an extremely valuable resource (especially for growing businesses).
Second, if they are engaging and highlight the product's benefits and best features, they will boost your sales.
Third, if your grammar is impeccable, they will boost your credibility.
I could go on, but I believe I've made my point. So, let's move on to the question at hand: How do you write amazing product descriptions? Here are a few tips:
When writing the description for a specific product, imagine you're a customer who's interested in buying it. What would you want to know about the product? Write down your questions - answer each of them in the product description. Your goal is to facilitate your customers buying decisions as much as possible, so, provide all the details one may need while wondering whether to purchase the product. For example, if you sell clothes, you can give information about each item's characteristics (available sizes, measurements, fabrics, colors, etc.), washing instructions, etc. Or, if you sell furniture, you can mention what options customers have for customization (e.g., how many colors can they purchase a sofa in, what fabrics and materials can it be made of, etc.)
Focus on the product benefits. Instead of just highlighting a product's best features, answer the question how it can make a customer's life better, easier, more fun, more mindful, etc. For example, if I were to buy a pouch, I wouldn't only be interested in its dimensions and fabric, I'd also like to know what I could put in it (I mean, I carry around a lot of pens, notes, and lipsticks).
Tell stories. If you have a product with a mission, tell people about it. It will definitely help your customers feel that they are a part of something bigger, that they're contributing to a good cause… that it matters that they buy this item, because it will do good. This amazing Batoko Lobster Swimsuit is the perfect example, For every item sold, a baby lobster is released back into the sea (and this information is right there on the product page). It's amazing, isn't it! 🦞🦞🦞
Write in a way your customers relate to. This is a no-brainer, but it is also extremely important to be omitted.
Create an emotion… an urge for the product. Make people believe they need it. For example, this morning I woke up and I didn't even think that I needed a new coffee mug. And now I truly believe that this Harper Wilde mug could really change my life. (I'll be back in a few minutes… I have some shopping to do!)
Format your product descriptions in a way that makes them easy to scan.
Be meticulous when it comes to grammar and typos. This is crucial - your writing has a direct impact on your brand's credibility. And, one more tip from me - don't overdo it with the exclamation marks. (Nobody needs them that bad!!!)
Optimize your product descriptions for search engines, i.e., optimize your product pages around your target commercial keywords.
Update the descriptions of your best-selling products every once in a while - this will help with your on-page optimization, as well as help you provide a better shopping experience.
Indeed, sometimes less is more… For example, like in the case of this "Lift Up The Ladies" baseball cap by Harper Wilde.
Reviews, ratings, testimonials
Adding reviews, star ratings, and customer testimonials to your product pages is important because social proof builds your credibility, helps you provide a more informed shopping experience, and facilitates your customers buying decisions.
There are many Shopify apps that can help you embed product reviews. A few of your best options include:

Source: Judge.me demo store
Product videos
To buy, or not to buy? This is the question… and since 90% of consumers say that product videos facilitate their buying decisions (Forbes), video may be the answer.
Especially when displayed at the point of sale, video is an extremely powerful marketing asset. Adding videos to your product pages enables you to take the shopping experience to the next level - you can showcase your products in a more engaging manner and present them in a better light. Videos can also help you enable a more informed shopping experience. Remember what I said earlier? A picture is worth a thousand words, and a video - 1.8 million per minute.
So, it is actually very simple - if you add videos to your product pages, you'll drive more customer engagement and gain more sales.
Until March 2020, if a Shopify merchant wanted to add videos to their product pages, they had to use a third-party app, or embed custom code. But things have changed. On March 14, 2020, Shopify officially announced that they now offer built-in support for videos. This means that you can upload videos directly to your product pages and it is just as easy as uploading images. Read more: Shopify, Bring Product Pages to Life with Built-In Support for 3D Models and Video
3D models: The power of "Try Before You Buy", turning your living room into a showroom, and more
3D models are another powerful digital asset with multiple applications - as stated by Jon Wade (a Product Manager at Shopify), 3D models can be used to generate "photorealistic images, color variations, lifestyle shots, augmented reality experiences, virtual reality experiences, animations, and more." Read more: Shopify, Bring Product Pages to Life with Built-In Support for 3D Models and Video
In fact, 3D models have already revolutionised online shopping by allowing customers to interact with a product online in a way that only brick-and-mortar stores could offer before: a customer can spin the 3D model in 360 degrees and examine the item from all angles. Example: These beautiful Quazi stilettos
And things get even more exciting if we throw AR and/or VR into the mix. These technologies allow online shoppers to experience a product in a way physical stores never could. Now people can virtually "try on" clothes, accessories, makeup products, etc. from the comfort of their homes. Or, let's say they liked a table at ZARA home - if that table has a 3D model that can be rendered in AR, for example, they can see how the table would look in their actual living room using only their smartphone or tablet. And if the table can be rendered in VR, customers can get a very good idea of its dimensions, colors, and, overall, explore its features in detail.
Shopify has been working on AR and VR for a while now. It is a very exciting endeavour and there are many merchants who are already seeing amazing results (after embedding AR/VR experiences into their stores). Of course, the technology is still in its early days - there are many challenges, but it is developing rapidly. Read more about Shopify AR/VR - what is possible and how you can provide immersive shopping experiences
But let's leave AR/VR aside and go back to the topic at hand - 3D models. Even if you don't want to add AR/VR to your store, or don't have the resources to do it at the moment, you can still leverage 3D models.
Especially since (as of March 14, 2020) Shopify supports 3D models out-of-the-box - you can now upload them directly to your product pages (and it is just as easy as uploading an image or a video: no custom code or third-party apps needed).
So, the only question is: How do you create 3D models of your products? To make 3D modeling easier for merchants, Shopify has been building a partner network of 3D modeling partners (like Sayduck and CGTrader), and 3D app partners for quite a long time.
You can work with one of these companies and level up your "product page" game!

I have been talking for a while now about the different ways to make your product pages better, or more engaging, if you wish. So, you may ask: What does this have to do with link building? The answer is: Everything. It is very simple - if you build it (and make it great!) they'll share it.
What I mean is, if a customer sees an outstanding product page (i.e., a page with beautiful product images, an inspiring video, an impeccable product description, a great rating score, and, on top of everything, a 3D model that enables customers to explore the product in detail), they're not just more likely to buy the product, but also to share it.
So, there you have it - if you create outstanding product pages, you'll naturally gain more backlinks.
Before I move on to the last section of today's guide, I'd like to share one last tip - it has nothing to do with link building, but it is an important aspect of optimizing your product pages for search. Here it is: add structured data markup to your product pages - it will help search engines understand better what they're about and, respectively, present them in a more engaging manner on the SERPs. This will substantially increase your CTR. Learn more about structured data for Shopify and what markup (data types and properties) to add to your product pages.
Blogging: Tell me more
Blogging has been my bread and butter for almost 7 years now. During this time I've learnt that blogging, if done right, can benefit brands in numerous ways:
It can help you build a brand that customers trust, love, and invest in
It can help you develop a stronger online presence and establish yourself as an authority in your niche (and we all know that in the world of e-commerce, credibility=more sales)
It can help you earn new customers and nurture your existing customer relationships
It can help you generate recurring traffic - especially if you optimize for SEO and your posts perform well in search
It is one of the best and most effective ways to earn backlinks
It is also an effective way to (subtly!) promote new products, services, upcoming sales, or more
It gives you room to be creative
And much more!
However, none of this is possible if you don't produce high-quality content, i.e., content that provides continuous value through engagement, education, inspiration, and more.
In other words, blogging should be about your customers, not you. It should contribute to your brand, but it shouldn't be about making a direct sale - that's what product pages are for. Your blog should be about connecting with your customers and providing them with information that can make their life better in some way (whether it is to make them laugh, inspire them, or help them solve a problem). If you manage to achieve this, people will not only read your blog posts, they'll also share them.
I personally believe that the best way to create great content is to get inspired. So, this is what I'm going to do in this section of the guide. I'll take a closer look at 5 great blogs run by Shopify stores, as well as share with you 3 of my all-time favorites when it comes to e-commerce blogging. Let's dive right in!
Note: The order in which the blogs are listed is completely random.
Outstanding blogs curated by Shopify stores
THE REBEL'S BLOG (BY REBEL NELL)
The product: Jewellery made from fallen layers of graffiti found on the streets of Detroit.
The mission: Rebel Nell is a social enterprise whose founders started with "a vision to create a company that would teach a woman how to fish." Rebel Nell employs women who are struggling to find and retain employment in Detroit. During this time, they "educate them on financial management, life wellness and entrepreneurship, and empower them to transition to a life of independence."
The blog: The Rebel's Blog is focused on Rebel Nell's mission, goals, and the impact the business has on the people they work with and the entire community. It aims to educate, raise awareness, and inspire. Some of its topics include:
Social initiatives (e.g., Integrated Education and Training Programs, Career Pathway Bridge Programs, Accelerated Diploma and Equivalency Programs, etc.)
Non-profit social enterprises (e.g., More Than Words)
Rebel Nell's social-impact driven project T.E.A. (Teach. Empower. Achieve) & the stories of graduates of the program
Company news, announcements, and stats (e.g., The Year In Review posts)
Exciting projects and collaborations
Key takeaway: If you run a social-impact driven business, use your blog to talk about your mission and raise awareness, as well as inspire more people to join your initiative.
THE FINALWORD (BY FINAL STRAW)
The product: A reusable, collapsible straw that is so compact it fits on your keychain.
The mission: Americans alone use 500 million single-use plastic straws every day - they cannot be recycled and don't decompose. Final Straw is fighting plastic pollution on a daily basis with their zero-waste and 100% safe product.
The blog: The FinalWord educates people about the dangers of plastic pollution and raises awareness of the scale of the problem. They also offer a ton of helpful tips and ways to deal with the problem. For example: creative ways to reduce your holiday waste, ways to score sustainability on Super Bowl Sunday, sustainable gift ideas, and more.
Key takeaway: Use your blog to raise awareness, educate, provide value (helpful tips and guides), and, ultimately, inspire the change you want to see in the world (both through your personal example, and your words).
UNDER THE WIRE (BY HARPER WILDE)
The product: High-quality Bras and Wilde Things at fair prices, designed with care to meet women's real needs.
The mission: Harper Wilde is taking the stress (and, as they've put it, the existential dread) out of bra shopping. In fact, they have sort of revolutionised the way we shop for bras… and have given women the power to easily and painlessly choose a bra that fits them. But also…
We didn't stop there. We set out to empower every Wilde Woman - from our employees and our factory workers, to girls who can't afford an education. Inspired by Harper Lee and Laura Ingalls Wilder, Harper Wilde has education and empowerment at its core. We are committed not only to lifting up your ladies, but also to lifting up the future generation of leading ladies.
The blog: ...Is amazing! It is witty, inspiring, and beautiful. It is also filled with a ton of useful information and actionable tips like how often you should replace your bra, how to choose the right bra, how to wash it without ruining it, etc. There are also tips on choosing the perfect present, traveling, keeping your New Year's resolutions, and more!
The takeaway: A great product is easy to write about… So, enjoy it! Enjoy sharing helpful tips with your audience. Give them guidance, inspire them, and have fun along the way.
And, this is extremely important, if you target women, empower them! Lift them up with your product, your mission, and your words. This is what makes us care about your business… This is what makes us share your articles, products, and your entire website, actually. This is what makes us lift you up in return!
VANILLAPUP (BY SHOP.VANILLAPUP)
The product: Incredibly cute dog toys, food & treats, health supplements, grooming essentials, pet carriers, beds… basically everything a dog owner needs or wants for their pet.
The blog: What do you want to know about dogs and raising them? You'll probably find the answer on vanillapup's blog. Seriously, it is like an encyclopedia and a dog lifestyle magazine at the same time. You can find a list of dog cafes (too bad it's only for Singapore) and dog-friendly places (restaurants, hotels, etc.). There's also a ton of helpful wellbeing tips (e.g., positive reinforcement pet training tips, how to solve and manage paw licking, dental care, food guides, etc.) and how-to guides (that cover everything from taking photos of your dog on a lazy Sunday afternoon to planning a dog-friendly wedding). You can even use the blog to get in touch with a vet. How amazing is this?
The takeaway: Take your product and a piece of paper. Ask yourself: "Who uses this and why?", "What would they need to know?" (not just about your product, in general).
For example, as a god owner, I can tell you that vanillapup's blog covers a lot of areas of the life of a pet owner. Sure, they've covered food, wellbeing, and toys (which is what they sell). Buy they also talk about dog-friendly places and share a ton of helpful traveling tips which really sets them apart (because, believe me, traveling with a pet is not a walk in the park - the research and planning that go into the process takes a lot of effort and time, and having the information in one place is a real life-saver!)
My point is - whatever you sell, don't just write about how your product can make your customers' lives easier. Put in extra effort to provide extra value - for example, if you sell natural cosmetics, don't just talk about your amazing and highly effective charcoal masks. Istead, add extra value to your blog by sharing tips on planning the perfect SPA day at home; share recipes for homemade masks with honey, coffee beans, etc., share a list with your favorite scented candles, or favorite recipes for a cosy night at home… give a link to your relaxation playlist. Sky's the limit! You just need to be willing to go the extra mile.
BETWEEN THE SHEETS (BY AU LIT FINE LINENS)
The product: Handcrafted bed linen, bath essentials, loungewear, and more, made from the world's best, all-natural fabrics.
The mission: "It's simple. We don't just sell linens. We change the way people sleep and improve the quality of their lives."
The blog: Again, it's simple. Their articles are focused on improving sleep quality, providing helpful information (e.g., how to choose the right duvet size for your bed, how to choose the best color for your bedroom, how to refresh your bedroom for spring, how to choose the right pillow, and more), expert tips, gift ideas and guides, travel guides, trends, and more. Au Lit Fine Linens also use their blog to subtly promote their products, new product lines, and lookbooks.
Key takeaway: Notice how the how-to guides listed above are questions all of us have. These are choices we all have to make in our daily lives, and, therefore, we research these topics on Google.
By writing helpful guides (optimized around relevant keywords), Au Lit Fine Linens manages to reach a number of potential customers and facilitate their buying decisions. If you can apply the same strategy, i.e. help potential buyers solve the issues they're facing, you'll manage to gain more backlinks. And, if you manage to include a few links to your products along the way, you're guaranteed to make more sales - but, I repeat again, you should be very subtle.
More inspiration
If you need more inspiration, here's an amazing article by Shopify: Build your Brand: 8 Ecommerce Blog Examples for Better Content Marketing
And, as promised, here are 3 of my all-time favorite e-commerce blogs: Net-a-Porter, Melissa's Journal (by Melissa Odabash), and Patagonia.
Keep learning
Learn how to create a stellar content marketing strategy: PageFly, How To Create An Effective Content Marketing Strategy For Your E-commerce Business
Wrap-up: It is always about quality!
First of all, if you're still here with us, thank you for walking the steep trail that this article has turned out to be. It was a long journey, exploring 4 advanced link building tactics you can leverage as a merchant: video marketing, influencer marketing, shareable products, and blogging.
Whichever link building tactic you choose to try first, it is essential that you think quality-first. Quality content is at the heart of every successful link building endeavour and it is your only way to the summit of success.
Sure, quality takes you down the more difficult road… the longer and steeper road filled with more difficult challenges. But this is also the road that teaches you how to stay at the top once you get there.
I hope this guide gave you a better idea of what you can do to earn more backlinks. I also hope it inspired you. If you have any questions, don't hesitate to leave a comment below! I'd also like to hear about your own experience gaining backlinks. So, please, feel free to share!