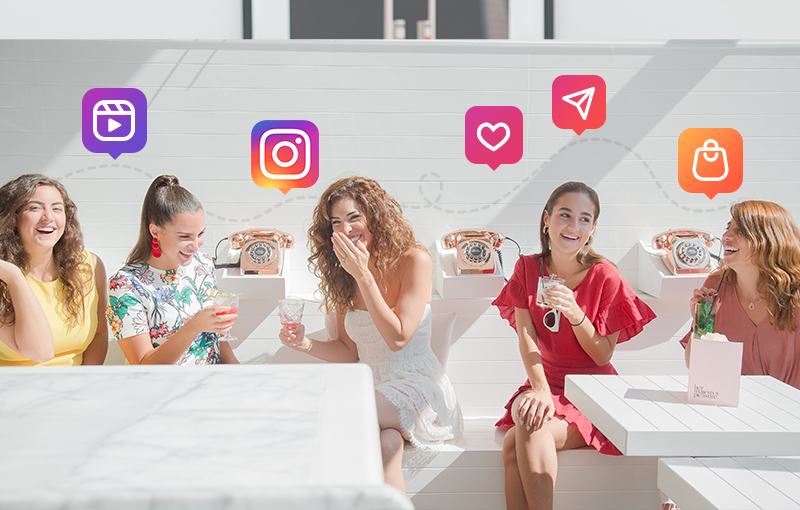 Today, we'll talk about Instagram. We'll dive into the specifics of leveraging the platform for your business. We'll discuss current trends, look at the strategies that work, and share inspiring examples. Also, we'll give you an extensive list of tools that will make working with Instagram a breeze. Let's commence!
10+ Instagram trends you must jump on in 2022
15 Instagram tools you need to use in 2022
***
According to Social Media Examiner:
78% of marketers use Instagram. This makes Instagram the second most popular social media platform (after Facebook, which is used by 93% of marketers).
In 2021, 22% of marketers said Instagram was the most important social media platform for their business. This number grew from 17% in 2020 and has been steadily increasing for the past several years (e.g., 10% in 2018 and 14% in 2019). We can only expect that the popularity of Instagram will keep growing.
A significant 64% of marketers plan to increase their Instagram organic activities in 2022, making it the top social media platform where marketers plan to invest more effort.
The numbers speak for themselves. But even if we leave them aside, Instagram offers significant benefits. For example, with Instagram, you can:
Gain more exposure
Bring targeted traffic to your Shopify store
Generate more qualified leads
Gain valuable marketplace insight
Build long-term business partnerships that positively impact your bottom line
Also, Instagram sports a ton of cool features that empower you to be creative, express your brand personality in a highly authentic manner, and get your message across in a way that doesn't simply appeal to your customers, but triggers an emotional response and drives higher engagement.
Ultimately, if you don't already use Instagram for your business, it is high time you started. Below, we'll look at the most important Instagram trends that will shape the future of the platform in 2022 and beyond. Leveraging them will help you level up your social media strategy, build a more recognizable online brand presence, acquire new customers, build brand loyalty, and more!
***
We'll discuss 10+ Instagram trends organized in 6 categories:  The Instagram feed, video content, influencer marketing, social commerce, social advertising, and community engagement.
The Instagram feed
There are several notable trends regarding the main Instagram feed:
The evolution of the main feed: In 2022, Instagram users will be able to choose from three different home screen views: Home, Favorites, and Following.
Instagram content trends: In 2022, the focus will be on personalization, authenticity, social responsibility, and brand personalities.
The evolution of the main feed
On January 5, 2022, Adam Mosseri (head of Instagram) announced that Instagram is testing several essential feed changes. More specifically, the ability to switch between three different views on the home screen: Home, Favorites, and Following.
Two of these views (Favorites and Following) will allow users to see posts in chronological order.
The Home feed will not be sorted chronologically. In Mosseri's words, it will feature "more and more recommendations over time," meaning that it will function as a discovery hub rather than a way to keep up with people you already follow.
View Adam Mosseri's tweet to learn more
In other words, the chronological Instagram feed is making a comeback. The changes will be implemented broadly into the app's experience. This is part of Instagram's transparency and accountability initiative, which aims to give users more control over their in-app experience. Instagram plans to roll out a finalized version of the chronological feed options by July 2022.
Instagram content trends
Quality content is a key component of every successful Instagram marketing strategy. But what is quality content, and how do you create it?
Quality content:
Is personalized and authentic. Since 2019, we've noticed a steady trend towards raw and candid content. This will remain relevant in 2022.
Displays social responsibility. Socially responsible brands will win over their customers' hearts and trust in 2022 (and for many years to come).
Showcases your brand personality. In 2022, businesses will need to focus on the human aspects of their brand: "Who stands behind the brand?" and "Why?" will be key questions to answer.
Below, we'll describe everything you need to know about producing quality content in 2022.
Personalization and authenticity will be paramount
Personalization is not exactly a hot topic - it has been a global consumer trend for several years. However, many brands have been thinking about personalization only in terms of email marketing and ads.
But in 2022, this won't be enough - today, consumers expect a unique shopping experience tailored to each online surface your brand exists on.
This means that they expect that your social media feed will be personalized as well - news and generic posts won't cut it. To catch your viewers' attention, you need to:
Address specific customer concerns and provide solutions - this will build consumer trust and help you highlight your products' benefits. You can gather relevant insight from product return forms, customer feedback (e.g., emails, social media posts and comments, etc.), and more.
Create next level posts about your best-selling products - for example, tell a story (who came up with the idea and why), highlight the product's benefits (share specific ways in which the product can improve your customers' lives), share real customer stories, and video testimonials, etc.
Leverage UGC (User-generated content). This will take some of the pressure off creating content. Also, since consumer-sourced content is more authentic than branded content, utilizing UGC will boost your credibility. Last but not least, UGC makes customers feel like they are a part of your brand journey. This builds brand loyalty, eases hesitant shoppers buying decisions, and helps you grow your customer base in a highly engaging and honest way.
Advanced tips on leveraging UGC
Create hashtags. Also, create buzz around your hashtags. In this way, UGC will come to you - customers can add your branded hashtag to their posts, and you can see all posts featuring the hashtag in one place. For example, @potterybarn's hashtag #mypotterybarn has been used in over 188k posts.
Motivate customers to create content by hosting giveaways, offering exclusive discounts, or early access to high-end products.
Ensure to request permission before featuring a customer photo on your Instagram account, website, or any other online surface your brand exists on. Also, always credit the creator of the photo.
Create posts that display corporate responsibility
Corporate social responsibility has always been important. Since the pandemic hit, it has become a must for all brands that want to cut through the noise. Today more than ever, people want to know what brands care about and how they contribute to it.
In 2022, you should aim to highlight your social initiatives and speak up about your values on social media. Best case scenario, you should address the social issues that matter most to your target audience.
You should incorporate this in all aspects of your Instagram strategy - from posts to ephemeral content like Stories and Lives. For example, you should:
Create in-depth posts that focus on your mission, values, and goals.
Tell stories about the initiatives you care about and how you contribute to them.
Host Q&A lives with relevant influencers, organizations, partners, etc.
Share Stories of the small steps you take towards achieving your goals and contributing to the causes you support.
Host virtual events and fundraisers (Instagram launched a social fundraising feature back in July 2020 in response to the effect of the pandemic on the economy).
Simply put, digital activism and cause marketing are hot topics in 2022, and they will remain important for many years to come. So, leverage them - speak up about what you care about (e.g., social initiatives and issues, non-profit organizations, etc.). This will add immense value to your brand (the kind of value you can't achieve in any other way). Also, it is a great way to let people know what your brand stands for and attract customers who believe in and support the same causes. This will boost your credibility, build brand loyalty, and benefit your bottom line.
Showcase your brand personality in your posts
Consistent branding is crucial to growing your follower base and acquiring new customers. But in 2022, you'll need to step up your game. Remember that customers crave unfiltered and authentic content. This means that they no longer care about polished branded content. Instead, they want to see the human aspect of your brand - your brand personality if you wish. To stay relevant in 2022, you must create Instagram posts that showcase it.
There are many ways to achieve this:
Candid Reels
Unfiltered Stories
Frequent Lives
Posts which feature unfiltered photos and powerful, honest captions. Post about everything you go through - from the small obstacles to the big wins. Ensure each post tells a story and conveys a unique message. For example, take your customers "behind the scenes" - show a video of your team packing and shipping orders, a photo and a story of how the product is made, or an interview with the founder sharing what drove them to create the business. Include customers in the process, show them the big picture and your unique point of view. This will make you more relatable. As a result, it will improve your engagement rate, increase buyer confidence, make customers feel more comfortable reaching out to you and sharing their concerns, and, ultimately, benefit your bottom line.
Implementing all this in your Instagram marketing strategy will help you:
Build a strong and active community
Drive high engagement
Start a conversation with your customers and connect with them on a deeper (and more human) level
Video content
For several years, video has been one of the most popular content formats. And for good reason:
For consumers, video content is highly engaging. In fact, because of our busy lives and shorter attention spans, we usually prefer video to other content formats.
For brands, producing video content is a lucrative opportunity that leads to higher engagement, promotes growth, increases exposure, drives quality traffic, helps them build a recognizable online presence and deliver a richer shopping experience, and much more.
It is not surprising that video content will dominate social media in 2022. This year, Instagram will emphasize video content (over images). Therefore, marketers will be more interested in Instagram video - over 70% of marketers plan on increasing their use of Instagram video.
Short-form video (e.g., Stories, Reels, etc.) will perform exceptionally well. In fact, short video adoption will shape video metrics. Sidenote: Instagram is the number-one story-based video channel used by 59% of marketers. Note that the use of Instagram Stories increased from 46% in 2020 (source: Social Media Examiner).
Here's everything you need to know about sharing video content on Instagram in 2022:
In October 2021, Instagram integrated IGTV videos with feed videos into a unified video format called "Instagram video." Today, users can post long-form video content (up to 60 minutes) directly to their Instagram feed. All video content appears on a single tab on profile pages. Note that Reels have their own dedicated tab.
The "Instagram Video" tab
The Reels tab
In 2021, Instagram emphasized short-form video formats (such as Reels and Stories) and live streams. This explains why Reels get a dedicated tab, and all other video content is merged and appears on a single tab.
In 2022, as Instagram continues to prioritize short-form video above other content formats, video memes will be essential - they are dynamic, fun, and drive high engagement rates.
If you want to broaden your reach with Reels in 2022, consider creating sponsored Reels - this ad placement is relatively new, which means the space is less cluttered and can drive better results faster. To create a sponsored Reel: open Facebook Ads Manager > Reels > Set targeting parameters > Upload a short video (up to 30 seconds) or use the available templates to create one from scratch.
In August 2020, Instagram launched Reels in response to TikTok's growing popularity. Currently, the feature that allows people to create short-form and highly engaging video content is available in over 50 countries.
Ever since the feature was launched, Instagram's algorithm pushed Reels forward, making them a key element of the Instagram user experience. They are already extremely popular among Instagram users. Their popularity will only grow in 2022.
Shopify merchants can leverage Reels in multiple ways. For example, you can use them to promote your brand and acquire new customers, create buzz around upcoming product launches, promote new products, highlight the benefits of specific products, educate your customers, create fun (and shareable) content which will bring your unique brand personality forward, build consumer trust, deepen customer connections, and much more.
So, if you haven't already included Reels in your Instagram marketing strategy, it's high time you considered jumping on this lucrative trend!
Stories are on the rise - According to Social Insider, posting up to 5 stories per day will ensure a retention rate of over 70%. This is hardly a surprise, considering the fact that Stories drive higher engagement and revenue (especially if you leverage cool features like link stickers, "Add Yours" stickers, polls, GIFs, music, or emojis). Also, Stories are a vital component of every influencer marketing strategy.
This is a link sticker - an interactive element you can add to your Stories. When a user taps on it, it leads them to a web page of your choice. Essentially, link stickers allow you to promote your products in a highly engaging manner.
Initially, Instagram limited access to Link stickers to accounts with over 10k followers. However, as of late October 2021, the feature has been available to all Instagram users (making it possible for merchants with a more limited following base to promote their brands on Instagram).
To add a link sticker to your story: tap the sticker icon > "🔗 LINK" > Paste the URL of the page you wish to link to.
↓
Live content skyrocketed in 2020 and 2021 - this is one of the ways the pandemic affected the entire social media landscape. We can expect that the popularity of live content will keep growing in 2022.
Live content is raw and authentic. Therefore, people like it and sometimes prefer it to other content formats - for example, 80% of Instagram users prefer watching a live stream to reading an article (source: Hootsuite).
Also, live content can boost consumer trust and help you build a strong and recognizable brand presence online.
Of course, there are certain limitations you must consider. This is because Live content requires customers to be on their phones at certain times which may not be convenient for everyone. Also, you must consider the time difference (especially if you have an international customer base) - lives and different time zones don't always mix well.
Still, the benefits of live content outweigh the cons, and if you have the resources, you must definitely consider including Lives in your Instagram marketing strategy.
Influencer marketing
The pandemic gave a boost to influencer marketing and the creator economy as a whole. In 2022, Influencer marketing will continue to soar, and socially engaged influencers and creators will take center stage.
Here's everything you need to know about building a successful influencer marketing strategy in 2022:
Instead of working on one-off campaigns with multiple influencers, focus on building long-lasting business partnerships with a few relevant influencers who share your brand values (and support similar causes). This type of always-on approach will bring continuous value to both sides.
If you're a small business owner, your main goal should be to discover relevant niche influencers. Niche influencers have smaller but more engaged audiences. Also, they're able to nurture a more personal relationship with their followers, and their narrative is more open and honest (which is completely in tune with the trend towards authentic and unfiltered content). All this makes them more trustworthy and relatable. This means that their posts have a higher engagement rate. In other words, they can bring a ton of quality traffic to your Shopify store.
In 2022, influencers will have to meet higher creativity and performance measurement standards. This is partly because the influencer market is highly saturated. But the increasing costs of working with influencers are also a major factor.
Social selling and live shopping are on the rise. Influencers will need to adapt to this trend. Luckily, this won't be a difficult task because one of Instagram's main goals is to facilitate creator-led shopping.
Here's how:
In 2021, Instagram introduced multiple ways for creators to make a profit on Instagram. For example, they can tag products in posts or use Shops. This will allow creators to drive higher engagement and display and sell products directly to their audience.
Instagram is testing a new native affiliate tool which will allow influencers to discover products available for in-app checkout (i.e., checkout within Instagram), share these products with their audience, and earn a commission for the orders they inspire. Affiliate posts will have an "eligible for commission" label. This will enable creators to collaborate with brands in a more engaging and transparent manner (that builds consumer trust and drives more sales).
Instagram also trialed a number of branded content features in 2021. As a result, in 2022, creators can create a "preferred brands" list (i.e., a list of brands they're interested in working with). This will also help brands find relevant creators to collaborate with. Also, Instagram has created a dedicated "partnership messages" section in the platform's Direct Messages - this will enable brands and creators to easily find and manage branded content partnerships. Last but not least, brands can use data and unique filters to discover relevant (or best-fit) influencers and manage multiple campaigns with ease.
Let's not forget about Instagram's Collab feature - a fresh new way for influencers to create content with brands instead of just tagging them in a post. Co-branded posts are a great way to raise brand awareness, encourage product discovery, and drive engagement. The Collab feature is available to all Instagram users - everyone can add a collaborator to any feed post or reel. All you need to do is start creating content with your normal workflow > tap "Tag People" > "Invite Collaborator" > Select a collaborator and send them an invitation. Once the collaborator accepts your invitation, both account names will appear on the post (photo or video), i.e., Instagram will credit both accounts. Keep in mind that the post will appear on both profiles and possibly in the feeds of both accounts' followers (which is nothing short of amazing in terms of branded content and product discovery!).
Before the pandemic, social storefronts were nice-to-have - an opportunity that only innovative businesses would consider.
However, today "social is the interface of commerce and the backbone of the new customer experience" (source: Étienne Mérineau). In fact, the global social commerce industry has seen tremendous growth and is now worth more than half a trillion US dollars (source: The Global State of Digital 2022, Hootsuite & We Are Social).
In 2022, people are expected to use social media in every stage of their buyer journey (across different product categories). Therefore, if you want to succeed in e-commerce, having a social storefront is no longer just nice-to-have but an absolute must.
Instagram Shopping  is a key element of social commerce. And it will be huge in 2022! In fact, 44% of people use Instagram to shop every week (source: Hootsuite). Therefore, you must leverage Instagram's commerce features. To do this, you must:
Create Shoppable Stories, i.e., use link stickers. This is an effective and highly engaging way to drive targeted traffic to your Shopify store.
Create Shoppable posts, i.e., use product tags. In this way, you can promote your products and generate more sales.
Аll posts that feature product tags have a small basket icon in the upper right corner. This is how product tags (and posts that contain tagged products) look on your Instagram profile:
And this is how a post with a product tag looks:
When a customer taps on the product tag, it will lead them to the brand's (in this case esteelauder) Instagram Shop where they can view more information about the product, send it to a friend, add it to their "Wishlist", or view it on the brand's official website.
Learn more about product tags:
Important: Instagram just launched a new feature that enables all Instagram users (not just businesses and approved creators!) to tag products in posts. Currently, the feature is available only in the US, but we cannot wait until it is rolled out worldwide!
Host live shopping events and allow customers to fully immerse into the Instagram Shopping experience - honest, unfiltered, exciting, and spiced up with a little sense of urgency! Also, live shopping events can help you increase brand awareness, create hype around an upcoming product launch, build consumer trust, educate your customers and increase product value, foster exciting business partnerships and collaborations, and much more. Keep in mind that select live shopping events automatically appear in the Recent section of the Live tab in Instagram's Shopping Portal. Your live shopping videos can also appear on the Video tab of your Instagram account - in this way, your followers can watch them even after the live streams have ended.
Note: Before you can leverage any of these features, you must get approved for and properly set up Instagram Shopping. Learn more → Instagram Shopping 101: A Step-by-Step Guide for Marketers
Instagram Ads
55% of marketers run Instagram ads (source: Social Media Examiner). In 2022, as organic reach withers and social advertising becomes a necessity, we can only expect this number to grow. On top of this, brands are expected to increase their paid social spend (source: Hootsuite).
But running ads won't necessarily be enough to cut through the noise, drive clicks, and generate revenue. Today, customers expect a shopping experience that is uniquely tailored to each online surface your brand exists on.
Also, consumers hold brands up to higher creativity standards, and the only way to advertise successfully on social media is to understand your customers' mindset.
To stand out, you'll need to create highly personalized ads that mirror the unique experience each social media platform offers. In this way, you won't interrupt your customers' browsing experience. Instead, you'll engage them with an enticing offer presented in a highly relevant and effective way.
Simply put, in 2022, profitable social ads will become more sophisticated. To run such ads, you must:
Run personalized and highly targeted ads. To master the intricacies of audience targeting, consider using a tool like Hootsuite Social Advertising.
Leverage and repurpose UGC (with consumer permission, of course).
Gather relevant consumer insight.
Learn more → Meta for Business, Facebook Ads guide
Community engagement
In terms of Instagram marketing (both organic and paid), high engagement is the ultimate prize. And when it comes to e-commerce businesses' Instagram accounts, the higher engagement your content has, the more sales it promotes.
So, the question is, how do you drive more engagement? Here are several ways that have withstood the test of time:
Host giveaways - on your own or in collaboration with a relevant influencer. This is one of the best ways to gain more followers, build brand loyalty, and foster deeper connections with your existing customers.
Be active - answer all comments and messages, comment on UGC submissions, like and share posts and Stories you're tagged in, etc.
Leverage Instagram polls. For example, upload several photos of a product and ask your customers to choose their favorite option for your next campaign. Or, ask them to select a time for your next Instagram live shopping event (or a Q&A session with an influencer you work with).
Leverage Instagram's community engagement features (e.g., emoji reactions, interactive Stories stickers, engagement-driving stickers, such as the "Ask me anything / Questions" sticker, and more).
Use Instagram's AR features, i.e., use fun AR filters and create branded AR effects - this is a highly innovative and immersive way to promote your products. Meta's Spark AR Studio went public in the middle of 2019. Since then, more than 1 billion people worldwide have used it to create their personal AR effect filters.
This concludes the "Trends" section of our guide. But before we wrap things up, we want to share a short list of tools that will make implementing these Instagram trends a breeze!
***
Scheduling tools
Hootsuite Bulk Composer
Bulk schedule and streamline your Instagram posts and campaigns. You can upload a CSV file and schedule multiple posts in one click. You can add images and videos to your posts and customize link previews. Sidenote: You can schedule up to 350 posts. "This could be 350 posts to 1 social account or 50 posts to 7 social accounts. Any posts already scheduled for those accounts in Hootsuite need to be included in that 350 post maximum." Learn more → How to Bulk Schedule Social Media Posts and Save Time & Bulk schedule your posts
Hootsuite Bulk Composer is not available to Free plan members. Hootsuite offers four commercial plans: Professional ($49/month), Team ($129/month), Business ($739/month), and Enterprise (Custom solution). The Professional and Team plans have a free 30-day trial. You can request a demo for the Business and Enterprise plans. Learn more → Hootsuite Pricing Plans
Analytics tools
Instagram Insights
The Instagram Insights tab will help you learn more about your audience (for example, when your followers are most active, what type of content they prefer, etc.). This invaluable marketplace insight will help you craft a more effective Instagram marketing strategy, which will promote higher engagement, boost buyer confidence, and benefit your bottom line.
Important: You need to have a business or creator account to view Instagram Insights. To view Instagram Insights, go to your Instagram profile > Tap the Insights action button > Tap the metrics under the Overview section or specific content you've shared for a more detailed breakdown. Learn more → View Account Insights on Instagram
Hootsuite Analyze
If you want to access more in-depth data, you can use Hootsuite Analyze. With Hootsuite Analyze, you can:
Get a 360-degree view of your results on all social networks in one place.
Set performance benchmarks.
Monitor improvements.
Access a breadth of historical data and get actionable insights on the best times to post (based on your business objectives).
Run customizable reports.
Monitor your account's response time and discover your top performers.
Hootsuite Analyze is available to Pro and Team Plans. Learn more → Hootsuite Pricing Plans
Hootsuite Impact
Hootsuite Impact is a results-oriented platform that demonstrates how your social media channels and campaigns drive leads, conversions, and sales. Impact provides graphs, tables, KPI (key performance indicators) summaries, etc. With it, you can easily measure ROI (return on investment), compare your campaigns' performance to your competitors' campaigns, and much more. Hootsuite Impact is available to Business and Enterprise plans. Learn more → Hootsuite Pricing Plans
Instagram ads tools
Ads Manager
Ads Manager is your starting point for running ads on Facebook, Instagram, Messenger or Audience Network. It enables you to:
Create and launch campaigns.
Define your audience for smarter ad targeting.
Set up and manage your ad budgets.
Run ads across multiple Meta-owned apps and platforms.
Make adjustments, i.e., edit your budget, audience, placement options and creative.
Automatically deliver personalized ads with dynamic creative.
Track your ads performance.
Get real-time insights.
Respond to comments.
And more!
Hootsuite Advertise
With Hootsuite Advertise, you can:
Plan and publish ads on Instagram, and make data-driven decisions about your campaigns in one place.
Best-in-class analytics - see a complete picture of your performance with reporting for both organic and boosted posts.
Improve your reach with targeted paid efforts
Photo editing tools
Boomerang
Boomerang is an Instagram app that adds a looping effect to your photos, i.e., it makes them more dynamic and engaging. All in all, it is a great way to add a little spark to your grid. Learn more → Introducing the Boomerang Video App
VSCO
VSCO is a photo and video editing tool with a wide variety of filters. Also, it has a vibrant community with weekly challenges, hashtags, memes, and more. Subscription members get access to advanced tools and features, such as filters by Kodak, Fuji, and Agfa, as well as the app's latest video and photo Montage tool. Learn more → VSCO
Adobe Premiere Rush
Adobe Premiere Rush enables you to:
Shoot professional quality video on mobile.
Edit your videos using advanced features (e.g., add subtitles to your videos, combine videos, etc.).
Use a wide variety of available templates.
Publish your videos directly to Instagram (including Instagram Stories).
Leverage all these cool features for free. Learn more → Adobe Premiere Rush
Influencer campaign tools
Brand Collabs Manager
Instagram business and creator accounts have access to Facebook's Brand Collabs Manager - a platform, designed to make it easier for brands and influencers to connect and collaborate on different campaigns. Brands can look up lists of creators based on their past partnerships, creators who like their account, and set up audience matches.
Tint
Tint helps you discover and partner with authentic creators, who will help you build a vibrant Instagram community and boost consumer trust. Also, it will help you encourage and generate UGC (user-generated content), which can be a credible influencer marketing asset. Sidenote: Tint integrates with Shopify, and is trusted by over 5,000 of the world's leading brands (e.g., Disney, Honda, Visa, Google, Nestle, Polaroid, etc.).
Fourstarzz
Fourstarzz is an influencer recommendation engine that has helped multiple brands (including BMW and Philips) discover the right matches for branded content. Fourstarzz has a rich database of over 750,000 influencers across multiple (five, to be exact) social media channels. Also, you can search and filter influencers by topic, keyword, handle, and more.
Other Instagram tools
Sparkcentral
Sparkcentral helps you listen to your audience, as well as catch up on, respond, and manage a high volume of feedback. You can manage every interaction from one place, improve response times, get a full view of your customers, and work smarter as you scale your business.
Linktree
Linktree offers an easy way to add links to your Instagram bio. It "is the launchpad to your latest video, article, recipe, tour, store, website, social post - everywhere you are online."
You can use it to collect payments (including donations, which makes it a great way to display corporate social responsibility and support the causes you care about).
Creating a Linktree link is easy - you use a simple drag-and-drop editor. Customizing your links (to let your brand personality shine) is also a hassle-free task. You can gain valuable insight into your traffic, take advantage of powerful third-party integrations (e.g., collect email subscribers, leverage remarketing, etc.), and much more.
Linktree has a free plan and three commercial plans - Starter ($5/month), Pro ($9/month), and Premium ($24/month). Learn more → Linktree pricing plans
Display Purposes
Display Purposes is a web-based tool that delivers details on Instagram hashtags (e.g., related tags, age and gender usage, demographics, language breakdown, etc.).
***
Instagram is no longer just a photo-sharing platform. It is a vibrant and socially-engaged community, an educational hub, a shopping platform, an immersive communication channel, and much more. You must take all this into account if you want to create a successful Instagram marketing strategy in 2022.
In this guide, we discussed 10+ trends that will shape the future of Instagram. We talked about changes in the main Instagram feed, video content trends, influencer marketing trends, social commerce trends, Instagram ads trends, and community engagement trends.
Also, we shared 15 tools that will facilitate different aspects of your Instagram marketing strategy - scheduling, analytics, ads, photo editing, influencer marketing, and more.
We hope the information and insight we shared will help you get started with Instagram. Or, if you already have an Instagram marketing strategy in place, we hope this article will help you level up your game!
If you have any questions or simply want to share your experience, just leave a comment below!
***