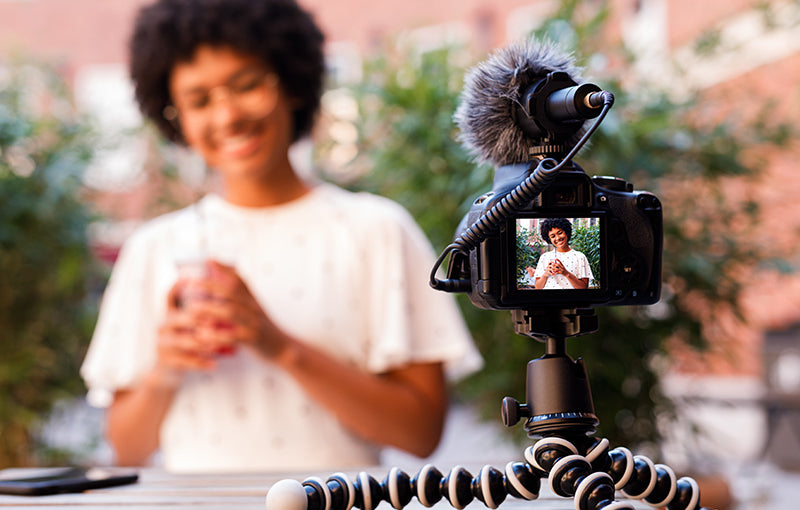 Behind every product, system, and modern convenience that makes the world turn is an entrepreneur with an idea.

The entrepreneurial mindset has fueled discoveries, built industries, and led to every significant innovation that's shaped our society.

We believe that spirit is inherent and present among us all, whether we realize it or not, and Shopify Studios' content aims to inspire the next wave of creators and iconoclasts to embrace and manifest the possibilities before them.

Jason Badal, head of Shopify Studios
Shopify launched Shopify Studios - its full-service TV and film production branch headquartered in Toronto, Canada, - on January 23, 2019.
Why?
To help startups 'creatively cultivate exposure' through entrepreneur-focused short videos and feature-length documentaries. Shopify will develop, produce, and finance all videos and films.
How?
Shopify has already established partnerships with well-known production and entertainment companies including:
Spoke Studios is the creative company behind 'Hell's Kitchen', 'American Restoration', 'Tiny House Nation', and more.
Where will Shopify Studios' content be available?
Currently, Shopify Studios' short videos and films are available on Shopify's YouTube channel. In the future, they will be available on streaming platforms and traditional networks as well. Shopify Studios also produces a podcast and inspirational editorial content (Founder Stories).
In Shopify's words, Shopify Studios is 'dedicated to inspiring entrepreneurship through entertaining, thought-provoking storytelling'.
The stories Shopify Studios tells
Shopify Studios tells 'the extraordinary stories of ordinary people who just happen to be entrepreneurs'. It tells the stories of extraordinary brands that are changing the world one product at a time.
Take Rebel Nell, for example. Rebel Nell is a 'social impact-driven business'. The company employs women who are transitioning out of homelessness and are struggling to find and retain employment in Detroit.
Source: Rebel Nell
The women who work at Rebel Nell make jewelry from layers of graffiti fallen on the ground. Each woman has the complete creative freedom to express herself through the pieces of jewelry she creates. Respectively, each Rebel Nell product has a direct impact on the life of its designer.
Watch Rebel Nell's story (5:36 - 10:15)
Mariclaro is another outstanding example of a brand with an incredible mission.
The founder of Mariclaro, Sven Schlegel grew up in East Germany at a time when you had to wait 15 years to get a new car. This taught him to be incredibly resourceful. What Sven does today is the perfect example of upcycling - he turns what other people consider junk into beautiful things with amazing backstories and unique characters.
But what exactly does he make? He makes leather bags and accessories from repurposed aviation materials and vintage car interiors. His brand stands for high quality, sustainable production, and ingenious designs. And we believe that such brands are the ones making a difference! Watch Mariclaro's story
Speaking of upcycling...
The Green Glass Company, located in Santiago, Chile, turns garbage into beautiful glassware.
Two things inspired Oscar Munoz, the founder of Green Glass, to start the company:
Only 10% of the people in Chile recycle. To make matters worse, a lot of people just dump their trash on the streets. As a result, the environment in Chile is under attack and trash is everywhere.
There are 60,000 trash collectors in Chile and nobody is acknowledging and recognizing their work.
Oscar knew that something must be done. So, he started collecting bottles and turning them into glasses. But, more importantly, he started creating opportunities for other people (thousands of trash collectors!) to make an impact on the environment and change the world for the better.
The Green Glass Company is all about demonstrating that trash does not exist. Currently, Oscar and all the people who work in the company, gather over 300,000 bottles a month. And, in this documentary, Oscar said they won't stop until every glass in the world is a Green Glass.
Speaking of making an impact on the environment...
Did you know that single-use plastic straws cannot be recycled and don't decompose? And yet, we use so many of them that we can cover our entire planet in plastic.
Straws pollute our land and oceans, endanger marine ecosystems and contaminate the entire food chain. And, as it turns out, recycling is not the answer. So, what can we do?
This question inspired Emma Cohen and Miles Pepper to create Final Straw - a reusable, collapsible straw that is so compact it fits on your keychain. Final Straw is completely safe and supports the zero waste philosophy 100%. Watch Final Straw's story
These are just a few of the many amazing stories Shopify Studios has told us so far!
I could go on.
But I believe I've made my point - good storytelling is all about unique and inspirational stories. And Shopify Studios knows how to tell these stories!
But there is more to good storytelling than inspiration. Good stories also raise a lot of questions. So, in the next part of the article, we're going to take a closer look at the questions Shopify Studios asks. Or, in other words, the questions you end up asking yourself while watching (or listening to, or reading) Shopify Studios' content.
The questions Shopify Studios raises
What do you think about when you wake up in the morning? Maybe you're an entrepreneur who has a long To-do list and are thinking about the best way to prioritize your tasks. Maybe you're a creative person who is trying to find the balance between running a business and being an artist. Or maybe you just want a cup of coffee. Maybe you ask yourself a ton of questions that do not have definite answers. Like...
What is beauty?
Why do we create things?
What is the difference between a product and a piece of art?
What is entrepreneurship?
What is success?
What does it mean to succeed as a modern-day entrepreneur?
How can you stay relevant in the ever-changing e-commerce world?
What does it mean to be a woman in business?
Can you be a successful businesswoman in a male-dominated industry?
Are you willing to risk everything to keep your dream alive?
How do you generate opportunities… for yourself, for your business, and for other people?
How is your product making an impact?
How are you making the world a better place?
Why did you start your business?
Do you know how to scale your business? If too much growth kills you, and no growth also kills you, can you manage the growth of your business?
What does your brand stand for?
How do you stay true to what you believe in… as a person, as an artist, and as an entrepreneur?
Are you doing what you were made for?
If you aren't, what are you waiting for?
These are actual questions that other entrepreneurs ask themselves and talk about in the content Shopify Studios produces. Needless to say that these questions are incredibly thought-provoking and inspire you to do something… It could be as small as drawing a picture of your dog. Or, as big as quitting your 9 to 5 job, writing a business plan and pursuing your dream to become an entrepreneur. But whoever you are and whatever you do, Shopify Studios' content will make an impact on you!
Bonus section: 4 lessons I learned from watching Shopify Studios' series
1. Success is not always something you feel on a day-to-day basis.
You must be willing to put in the work. You must be patient. Sometimes you may have to pick up and screenprint 300 T-shirts (and sweatshirts, and hoodies!) at 4 a.m. in the morning… or fix an RV's battery plate on a parking lot… or spend 3 sleepless nights drawing… but in the end, if you're willing to go all the way, you will be successful.
You don't believe me? Then ask Colm Dillane, the founder of New York-based streetwear brand KidSuper to tell you the story about how he and his friends got to ComplexCon. Or, better yet, watch it!
2. Nothing is impossible! If you really want to do something, you can do it!
For example, Jennifer spent 10 years of her life working in an office, watching the Tofino beach webcams and daydreaming… until she finally decided to catch the wave and achieve a dream she has had since she was 9 years old - move to Tofino, open a small Caravan Beach Shop, and go surfing in her spare time.
And Stefan couldn't imagine spending his life doing a 2-hour commute every day. So he moved from Australia to Tofino and opened Aftanas surfboards. Today, he designs and shapes surfboards for a living… and it takes him about 2 minutes to get to his studio.
Watch Jen and Stefan's stories here
3. 'You don't need magic to do magical things.'
The super-women at HexComix are living proof! Read their story
4. You don't give up on your dreams!
Even if they are incredibly hard to achieve! Even if you feel tired... even if you feel like you're failing! To paraphrase Oscar Munoz, the founder of Green Glass, it's in the hardest times that you become the strongest and the most creative version of yourself. It's in the hardest times that you become the most resourceful as well. And if you stay true to yourself and believe in what you do, your dream can end up changing the world!
How to contact Shopify Studios?
If you have an inquiry, you can contact Shopify Studios via email.
Conclusions
Shopify Studios is here to empower entrepreneurs. It is here to inspire the next wave of creators to uncover their potential. It is here to help businesses get more exposure.
Ultimately, Shopify Studios is proof that Shopify is here to leave a mark in the history of retail. It is proof that Shopify is here to create movements, inspire change, and shape the way we think about (and do!) retail! It is also proof that good stories should be told!
Which Shopify Studios' story inspired you the most? Just scroll down and share it with us in the comments section!