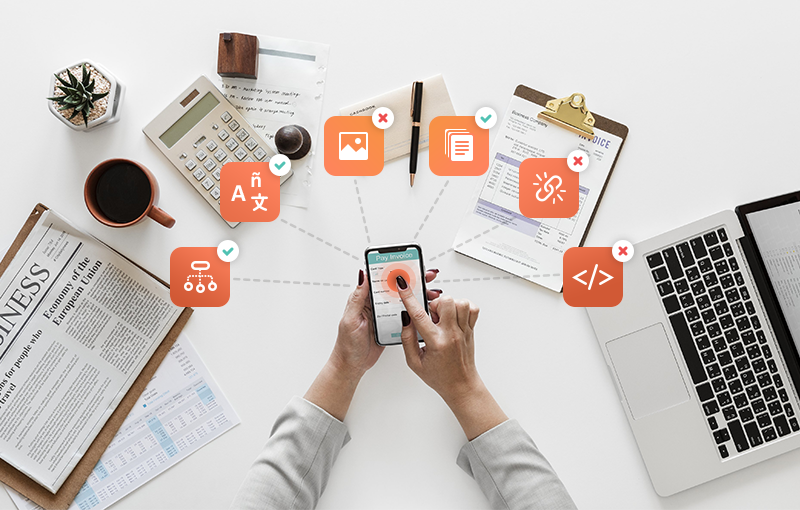 How do you optimize your resources for optimal performance and maximum results? This is one of the major e-commerce SEO questions.
Most of the time, the SEO issues that all e-commerce merchants (not only Shopify store owners) face exhaust two of their most valuable resources: time and money (the latter is particularly true for smaller businesses on shoestring budgets).
In this article, we take a closer look at some of the major SEO issues merchants face in relation to:
The question at hand is: Is there a way for merchants to automate the process of solving these issues while saving time and money. Let's dive right in!
Clutter
Clutter is not good. In fact, it is productivity's archenemy. No, I'm not promoting the KonMari method (even though I am a fan).
I'm talking about a specific type of clutter - product pages that no longer bring you revenue (because the product is sold out, is an old model, or simply doesn't click with your audience), thin content pages, old blog posts that nobody has read in months (or years), landing pages you no longer need, you name it.
These pages may seriously harm your on-store SEO for two reasons:
Google still crawls them, which means that some of your newer products may not get indexed.
The higher number of pages may slow down your website, which may ruin the shopping experience for some customers.
The result in both cases: lost sales opportunities. Not good.
The solution: Declutter!
Get rid of the pages you don't need. This will maximize your Crawl Budget and increase your page loading speed.
What I mean is, take your time and declutter your website page by page. How? To paraphrase Marie Kondo, ask yourself "Does this page bring me revenue or does it bring value to my customers?" Delete all pages that don't meet these requirements.
For best results (and to avoid chaos and headaches), prioritize your categories and go through them one at a time.
And remember, good SEO requires consistency, continuous effort and is all about long-term value - if you declutter your website once, the impact on your rankings won't be nearly as great as the impact of repeating the process every three to six months.
Meta tags are small snippets of HTML code that search engines can easily read and understand. Meta tags give important information about your website. For example, the title and description tags are what Google displays in search results.
This is a meta title:
And this is a meta description:
As you can see, meta tags are an integral part of your on-store SEO.
But optimizing your meta title and meta description tags takes time and effort, especially if you have hundreds (or even thousands) of products.
A few months back, I wrote a guide to on-page SEO for Shopify. I talked about best practices and took a look at the meta tags of some of the biggest e-commerce stores out there.
But what if you don't have the resources to optimize your meta tags in-house? What if you can't afford to outsource it to an SEO expert? Then...
Solution: Automate the process
A few days ago, I came across this heart-warming gif while browsing Shopify's Twitter page: "We got you"
They got you, indeed… There are nearly 100 SEO apps on the Shopify App Store that can help you optimize your online store. Some of these apps can help you automate the process of configuring your meta tags. Such apps include Smart SEO (☆4.9, $9.99/month - $29.99/month, free version available, 7-day free trial), SEO Expert Pro (☆4.6, $19.99/month, 3-day free trial), SEO - All in One & Auto SEO (☆4.5, $8.99/month, 7-day free trial), and more.
Alt tags (also called "alt attributes" and "alt descriptions") are HTML attributes applied to image tags.
Alt tags describe images and help search engines understand what a specific image is about. As such, they are an integral part of SEO image optimization. Simply put, alt tags provide better image context/descriptions to search engines, helping them index the images properly. Thus, using relevant alt tags, will boost your SEO performance and improve your rankings.
But adding alt tags to images is first and foremost a principle of web accessibility. For example, since alt tags can be read by screen readers, they make your website more accessible to the visually impaired.
The best practices for writing alt tags include: write descriptive alt tags, avoid BIG words, use keywords (but avoid keyword stuffing). I also found a very cool tip on Twitter: "When writing alt text, imagine you're describing the image to someone over the phone."
Source: @kvlly. Oh, by the way, Kelly is the co-host of an amazing all lady-hosted tech podcast for developers called Ladybug Podcast🐞You can find them on Twitter as well.
But back to the good old alt tags, which, similar to the meta tags, also take time and effort to set up. So, the question at hand is the same: Is there a way to optimize/automate the process? The answer is "Yes". Let's see how.
Solution: Automate the process
There are a number of Shopify SEO apps that can help you easily and quickly configure your image alt tags. Such apps include Smart SEO (☆4.9, $9.99/month - $29.99/month, free version available, 7-day free trial), Alt Text (☆4.8, $1.99/month), SEO Image Optimizer & Resizer (☆4.7, $8.95/month-$19.95/month + free plan available), SEO Expert Pro (☆4.6, $19.99/month, 3-day free trial), SEO - All in One & Auto SEO (☆4.5, $8.99/month, 7-day free trial), and more.
Broken backlinks are the bane of my existence!
Okay, I'm being a little dramatic… Let's just say that broken backlinks aren't good for SEO.
Backlinks are links from other websites to your website. Earning high-quality backlinks is a fundamental block of any successful off-page SEO strategy. There are several types of backlinks, as well as many factors that affect the SEO weight of a backlink - I've described them in our comprehensive guide to link building for Shopify.
In this article, I'm going to talk about broken backlinks - an incoming link pointing to a 404-page of your website (as described by Ahrefs). Such backlinks may seriously harm your SEO performance. But finding out all broken backlinks that refer to your website requires a lot of effort… not to mention the effort that you'll need to put in to fix them. Luckily, there's a solution.
Solution: Use an app or a tool to detect and fix all broken backlinks
Okay, the first tool that comes to mind when I think of fixing broken links is Ahrefs.
Ahrefs backlink checker tool is sophisticated and powerful. But pricing starts from $99/month. See all pricing plans
So, you may ask, "Is there a cheaper alternative that works well? Better yet, is there a Shopify app that can help me fix broken backlinks?"
There are a number of apps available on the Shopify App Store that can help you fix broken backlinks, such as Smart SEO (☆4.9, $9.99/month - $29.99/month, free version available, 7-day free trial), SEO Manager (☆4.8, $20/month, 7-day free trial), SEO - All in One & Auto SEO (☆4.5, $8.99/month, 7-day free trial), and more.
I want rich snippets but don't know what structured data to add to my Shopify store
Structured data is one of my favorite topics! Sure, it looks messy at first (and, honestly, it made me feel like I should have a degree in rocket science to understand how it works), but once you understand the logic, and find out what data types and properties you need to add to your store, it is beautifully simple!
Okay, let's start with a few facts about structured data:
The benefit: Adding structured data markup to your Shopify store will help search engines understand better what your website is about. It will also increase your chances of getting rich results which, in turn, will increase user engagement and your CTR - all leading to more sales.
There are 3 structured data formats: JSON-LD, RDFa, and Microdata. Google prefers and recommends using JSON-LD for structured data.
There are 2 structured data schemas (or vocabularies): data-vocabulary.org and schema.org. Data-vocabulary.org is outdated and, come April 6, 2020, it will no longer be eligible for rich results features. Thus, if you're using data-vocabulary.org markup, you must replace it with schema.org markup.
In Shopify, it is recommended that you add structured data to your homepage, product pages, collection pages, blog page, and article pages. Here is a brief overview of the data types and properties you should add to each of these pages:
There are 3 ways to add structured data markup to your website:
You can do it manually in-house. For this to happen, you must be familiar with Shopify Liquid, JSON-LD, HTML, and schema.org. If you're not a skilled developer (or don't have one in-house), we don't recommend this option because of the possibility of introducing errors to your website's HTML. Instead…
You can work with a Shopify expert and outsource the task. Or…
You can use a Shopify SEO app that can add JSON-LD structured data to your website. Such apps include JSON-LD For SEO (☆4.9, $299 one-time charge), Smart SEO (☆4.9, $9.99/month - $29.99/month, free version available, 7-day free trial), SEO Manager (☆4.8, $20/month, 7-day free trial), and more.
Before you implement structured data, make sure that you're familiar with Google's Webmaster Guidelines and General Structured Data Guidelines.
Read more about structured data for Shopify

So far, we've talked a lot about Shopify SEO apps that can help you solve these common SEO issues. So, you may ask: "How do I choose? How do I know which app is the best?"
Well, the thing is, that all of the apps mentioned in this article are amazing. You simply must choose the one that works best for you, your business and budget.
The best advice we can give you (when it comes to choosing an app) is to pay attention to the reviews - especially the most recent ones. I'm not going to talk at length about the massive importance and the power of the review. As a merchant, I'm sure you already know what I'm talking about - when it comes to buying decisions, us humans are prone to trust our peers, and respectively, shop from brands that are already making their customers happy.
One other thing you can consider is which app will help you solve these issues in a way that both works great, and doesn't put you in a budget crunch. In other words, you may ask: "Is there an app that will help me solve most of these issues?"
Full disclosure - we'll take this opportunity to promote ourselves and explain (very briefly) how our Smart SEO addresses the issues discussed in the article.
First, Smart SEO can help you automatically generate meta tags (for products, collections, blogs, and articles) using 25+ tokens. The tokens allow you to insert data in your SEO metadata templates for your product, collection, blog and article pages. When the meta tags are generated for a page, these tokens are replaced with the data (title, description, etc.) from the product, collection, blog or article. Learn more about Smart SEO tokens
Second, Smart SEO helps optimize your alt tags. Again, with the help of 16 tokens, you can bulk edit and customize the alt tags of multiple images. Learn more about Smart SEO alt tokens
Third, it helps you easily fix broken backlinks. It will scan your website and then query one of the most powerful APIs in the world (DataForSEO) to identify all broken backlinks. Once the scan is complete, you can quickly fix the broken links and make search engines fall in love with your store all over again.
Last but not least, Smart SEO automatically provides Google (and other search engines) with detailed structured data in JSON-LD format. For example, it generates structured data for every product on your collection pages. As a result, the app helps you get rich snippets and rank higher on the SERPs.
And, to top it all off… we haven't forgotten about the merchants who sell in multiple languages. The app also offers multi-language support for meta tags (meta titles and meta descriptions) so that you can create meta tags for each language in your store.
Wrap-up
We hope this article gave you an overview of how you can solve some of the most common SEO issues merchants face. If you have any questions or think that we've missed something, let us know by leaving a comment below!