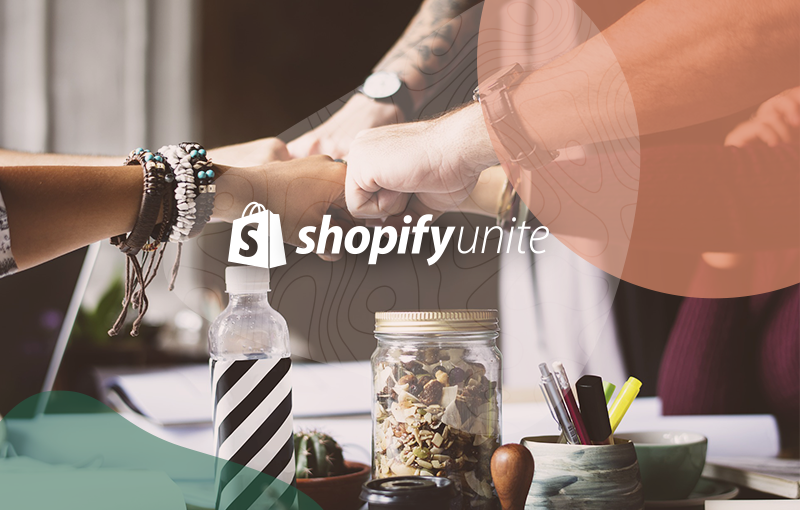 Shopify Unite 2019 - Shopify's fourth annual partner and developer conference, - took place from June 18 to June 20 in the Beanfield Centre, in Toronto, Canada. More than 1,800 people from 50 countries attended the conference where Shopify leadership spoke about the opportunities ahead and announced the new Shopify and Shopify Plus features. After watching live streams from the conference and reading a ton of inspiring social media posts about Unite 2019, we can't wait to share with you all that has happened at this year's conference.
Тhe biggest announcements from Unite 2019
AI-powered Shopify Fulfillment Network for SMB (Small and Medium-sized Businesses) merchants
Shopify Fulfillment Network helps SMB merchants deal with high shipping costs and delayed deliveries. The fulfillment centers are located in California, Georgia, New Jersey, Nevada, Ohio, Pennsylvania, and Texas. Here's what Shopify Fulfillment Network offers:
Machine learning capabilities: Shopify Fulfillment Network "predicts the closest fulfillment centers and optimal inventory quantities per location to ensure fast, low-cost delivery" (source: Shopify).

Smart inventory-allocation technology. Shopify Fulfillment Network allows merchants to "predict demand, inventory allocation, and route orders to the closest fulfillment center. Inputs include the locations of our merchants, product details, consumer locations, and shopping behavior." This was announced by Shopify CPO Craig Miller.

Ability to sell across multiple channels (e.g. online store, brick-and-mortar store, marketplaces, social media channels, etc.).

One back office with real-time synchronization of customer data, inventory levels, and order information across all locations and sales channels. Thus, merchants can avoid overselling and underselling.

A dedicated account manager with experience in logistics.

Custom packaging - Shopify CTO Jean-Michel Lemieux announced that all items will be shipped in merchant-branded boxes. "In some ways we are repeating our vision, in which merchants want to own their brand, and that drives our roadmap", he said.

99.5% certainty and accuracy when it comes to order fulfillment.

Two-day shipping at a lower cost.

Ability to handle returns and exchanges.
Currently, Shopify Fulfillment Network works for merchants who ship from 10 to 10,000 products a day, i.e. small to medium-sized businesses. The reason is that SMB merchants face the biggest challenges when it comes to dealing with third-party shipping carriers, high shipping costs, delayed deliveries, and, respectively, poor customer experience. Shopify's future goal is to make Shopify Fulfillment Network available to merchants who ship from 3 to 30,000 products a day.
US-based merchants who qualify for Shopify Fulfillment Network can apply for early access. Here's what Craig Miller said on the matter:
We assess merchants on a case by case basis depending on their product types and fulfillment needs. The goal is to offer Shopify Fulfillment Network to Shopify merchants of all sizes. At launch, we'll be offering our services primarily to small and medium sized businesses who are currently using a third-party logistics provider that are unable to fully meet their needs, in addition to merchants who have outgrown their existing fulfillment processes.
It is still not announced what types of products are supported. To check if you quality for Shopify Fulfillment Network, just click on the Log in to apply button on the official Shopify Fulfillment Network landing page.
New Shopify Shipping features
On January 27, 2019, Mike McGuire (a Product Marketing Manager at Shopify) published the following article on the Shopify blog: Shopify Shipping and USPS in 2019: More Options and the Lowest Rates Available. The article introduced new and more affordable ways to ship orders with USPS through Shopify Shipping and announced that Shopify store owners can now get the lowest shipping rates on some USPS mail classes. They can do this by using the following new features:
Priority Mail Cubic Rate Pricing - get up to 90% discount off Priority Mail retail prices for packages of up to 0.5 cubic feet, and up to 20 lbs.

Lowest prices on First Class Package International - save up to 21% off of retail shipping prices.

Two additional low-cost shipping options - Parcel Select Ground (for packages that weigh up to 70 lbs) and Media Mail (for media materials like books, music, and videos).
At Unite 2019 Shopify also announced that all Shopify merchants will be able to set specific shipping rules for different products using the new Shopify Delivery Profiles API. The shipping rules can be set per product and per location.

A next-generation Shopify POS software
To support growing direct-to-consumer brands, Shopify announced the launch of its next-generation POS software: a redesigned and updated Shopify POS (with Shopify POS Loyalty and Promotion extensions) and a complete Shopify Retail hardware kit.
The redesigned and updated Shopify POS app
The new shopify POS app is compatible with all current apps and its simple design offers a better user experience. It also prioritizes quick and seamless workflows, ensures a faster checkout process, and facilitates refunds and exchanges. Other improvements of the Shopify POS app include:
A more strategically placed global search bar

Multiple location search

Large tap areas - 40% bigger buttons

A more visible connectivity indicator

Smart grids

Staff permissions management

Support for an unlimited number of products

A unified backoffice and real-time synchronization of customers, inventory, and orders across your website, all your brick-and-mortar stores, and all sales channels.

Loyalty and promotions POS cart app extensions that allow retailers to see loyalty and promotion details within the customer's shopping cart. The new app extensions aim to simplify the checkout process, decrease the time it takes to apply a discount with about 10 seconds, and, ultimately, increase customer satisfaction.
View all POS Loyalty and Promotion apps
The Shopify Retail Kit
On April 25, 2019, David Seal (a Product Manager at Shopify) published the following article on the Shopify blog: Introducing the Shopify Retail Kit: Unify Your Online and Offline Business. The Shopify Retail Kit is a fully-featured hardware collection that helps merchants deliver seamless shopping experiences. It is a set of three tools that are designed to simplify the in-store checkout process:

Tap & Chip Reader that allows merchants to accept contactless and chip card payments like Google Pay and Apple Pay, directly from their smartphone or tablet. The reader connects to phones or tablets through the free Shopify POS app. With the Tap & Chip Reader staff members can accept payments anywhere in the store.

Dock that powers the Tap & Chip Reader.

A minimalistic Retail Stand that can be flipped to face the customers so that they can review their purchase and complete the checkout process.
Currently, the Shopify Retail Kit is available only in the US and costs $299. Learn more
The new Shopify Plus
Shopify announced that later this year they will be releasing a new Shopify Plus that aims to facilitate and support immense international growth. Some of the key features the new Shopify Plus will offer include:
Multi-store management

A unified view of all stores, products, orders, etc




A single admin panel - manage all stores, products, orders, user permissions, staff accounts, automation tools, etc. in one place; switch between stores in a single click

Single login - use one account to log in to all stores

Centralized view of all Shopify Flow workflows

Advanced Shopify Flow features - copy Shopify Flow workflows across all stores

A simplified workflow to add new stores - set up a new store in just a few clicks

Key insights

Currently, the new Shopify Plus is in closed beta and will be released in the coming months. Shopify announced that launching this new version of Shopify Plus is "the first step in building the foundation to support the world's most successful brands."
Selling in multiple currencies will become available to all Shopify merchants
Since October 2018 all Shopify Plus merchants have been able to sell in multiple currencies with Shopify Payments. At Unite 2019 Shopify announced that in the coming months the feature will become available to all Shopify merchants.

This feature was previously available to Shopify Plus merchants only, which means the Admin APIs already respond with both the presentment currency (eg. the currency the order was placed in), and the shop currency (eg. the merchant's currency).
Supported currencies
As of June 2019, Shopify supports the following currencies (listed in alphabetical order):
Australian dollar (AUD)

Canadian dollar (CAD)




Euro (EUR)




Hong Kong dollar (HKD)




Japanese yen (JPY)




New Zealand dollar (NZD)




Pound sterling (British pound) (GBP)




Singapore dollar (SGD)




United States dollar (USD)



These are the currencies that we are seeing the most traction from a cross-border selling perspective. We look to expand this list in the future.

Craig Miller

What does selling in multiple currencies mean?
Selling in multiple currencies allows you to:
Display product prices in the 9 supported currencies.

Charge your customers in their local currency and receive payments in your store's default currency. Prices are automatically converted using rounding rules and current exchange rates.
Say your store's default currency is United States Dollars (USD) and a customer wants to pay in euros (EUR). When that customer completes their checkout, their euros will be automatically converted to dollars using current exchange rates and rounding rules. After the customer completes their checkout, you will receive a payment in the amount of the customer's order total minus processing and conversion fees.
Note: Shopify automatically sets rounding rules for each currency. You can manually edit the rounding rules for each currency, and specify different rounding rules for each currency. You cannot set currency-specific prices for your products, i.e. prices that change depending on the currency they are displayed in.
Shopify Payments is now available in the Netherlands and Denmark
Shopify announced two additional countries in which Shopify Payments will become available - the Netherlands and Denmark. Until now Shopify Payments was available in Australia, Canada, Germany, Hong Kong SAR China, Ireland, Japan, New Zealand, Singapore, Spain, UK, US, and Puerto Rico.

Updates to the Translations APIs and support for 11 new languages

To help merchants sell globally and make it as easy as selling domestically, Shopify announced updates to the Translations APIs, changes to the Shopify Admin, and support for 11 more languages.
Updates to the Translations APIs

Support for 11 new languages

At Unite 2018 Shopify announced that the Shopify Admin will become available in 6 languages, other than English: Brazilian Portuguese, French, German, Italian, Japanese, and Spanish. As a result, over 100,000 merchants began using Shopify in languages, different than English.
At Unite 2019 Shopify announced support for 11 more languages: Danish, Dutch, Finnish, Hindi, Korean, Malay, Norwegian, Simplified Chinese, Swedish, Thai, and Traditional Chinese.
In addition, this year Shopify took it one step further by extending the functionality to the Shopify Partner Community - Shopify made the Partner Dashboard available in 10 languages: Brazilian Potuguese, Dutch, English, French, German, Italian, Japanese, Simplified Chinese, Spanish, and Traditional Chinese. Read more
Changes to the Shopify Admin
Shopify also announced changes to the Shopify Admin that aim to help merchants sell in multiple languages and deliver seamless and consistent cross-border shopping experiences. Key new features include:
Support for different subdirectories in the URLs - merchants can create localized versions of their stores (e.g. myshopifystore.com, myshopifystore.com/ca, myshopifystore.com/de, etc.)

A new Language Settings page in the administration panel.
Video, 3D modelling and AR
Shopify announced that, by the end of the year, merchants will be able to display their products in a highly interactive and engaging manner using video, 3D models, and AR. They will be able to upload and store videos and 3D models the same way they upload and store images. The merchants who use one of the 10 basic Shopify themes will be able to display videos and 3D graphics on their product pages through the Shopify video player and the Shopify AR kit. Merchants who use custom themes, will have to implement the necessary changes beforehand.
In Shopify's words by using video and 3D, merchants will be able to build better brands, tell more powerful brand stories, create better product listings, reduce returns, and win the attention of their customers. To make 3D modeling easier for merchants, Shopify is building a partner network of 3D modeling partners (like Sayduck, Zee Agency, and CGTrader), and 3D app partners (like Tapcart). The e-commerce giant is also looking for 3D artists and AR developers to join its Partner program and help scale AR to all store owners.

Read our article on 3D models, Shopify VR and Shopify AR
A new online store design experience

Shopify announced the launch of a new online store design experience that aims to help merchants customize their storefronts without editing or adding a single line of code. The new online store design experience is currently available in developer preview only.

Key features include:
A new and improved user interface with more intuitive navigation.

Easier customization - customize all pages of your website using the customizations previously only offered on the home page.

Sections on every page of the online store and sections-based editing features. Shopify announced their new Section Themes REST API that allows merchants to manage Sections via API. Read more

Master pages with bulk-editing features - define the content that appears on multiple pages and apply changes to all pages by editing the master page.




Drafts - merchants will be able to draft changes to their stores before publishing.



Subscriptions - a new checkout app extension.

We're pleased to announce that coming soon, Shopify Partners will be able to access our first ever checkout app extension, which focuses on improving the purchase flow for subscriptions. Buyers will no longer be routed outside of Shopify's checkout to complete their transactions. Developers will be able to integrate their subscription apps into the checkout experience, surface their app's information into Shopify's checkout, and give merchants the ability to process transactions for subscription goods and services within one seamless checkout experience. The checkout app extension for subscriptions will be available later this year.

Updates to the custom storefront tools
Shopify announced updates to the custom storefront tools that allow merchants to:
Personalize the front end of their websites and deliver outstanding customer experiences for web.

Use mobile SDKs to create seamless mobile shopping experiences (for iOS and Android).




Engage with customers on new frontiers such as voice shopping, smart mirrors, and more.




Allow their development team to leverage the power of headless architecture.



Read Shopify's case study on Shopify Plus merchant Koala and their headless commerce tech stack
Improvements to the single back office experience
Shopify introduced new capabilities via their Media APIs, Order Editing API, and Delivery Profiles API (available in GraphQL).
Media APIs
Until recently, developers could upload only images via the Media APIs. Now, developers can use the Media APIs to upload videos and 3D models, and associate these digital assets with different products and product variants. Shopify also announced additions to the GraphQL Admin API that enable partners to manage videos and 3D models. Read more

Order Editing APIs
Merchants will soon be able to edit open orders, i.e. they will be able to add, remove and replace items at the buyers' request before an order is fulfilled. Thus, merchants will have more post-purchase flexibility and will be able to deliver better customer experiences. Read more

Delivery Profiles API
The new Delivery Profiles API is currently available in developer preview only. It is expected to become available to all merchants by the end of the summer. It will allow Shopify merchants to set shipping rules per product and per location, i.e. based on product characteristics and based on where the inventory is shipped from (e.g. warehouses). Read more

New developer tools
There are three things that we're focusing on in terms of the developers on our platform. We're making it easier and faster for developers to build on our platform. So that's number one. Number two is that in addition to making it faster and easier, we're making it more stable. We launched API versioning a few weeks ago. That makes sure that we can continue to innovate, but also that things are very reliable for those on the ecosystem. And finally, we're making it easier for developers to run developer previews, where they can test new features available before they're released for all people.

Shopify CPO Craig Miller, Venture Beat
Shopify's most popular open-source libraries are available in GraphQL
At Unite 2018 Shopify announced that they will be releasing their Admin API in GraphQL. This year Shopify took things one step further and announced that its most popular open-source software libraries are also available in GraphQL:
Go client for the Shopify API

OAuth2 Module for Shopify API

Official Node Shopify connector sponsored by MONEI.net

PHP SDK for development with the Shopify API

ShopifySharp is a C# and .NET library

The Java wrapper for the Shopify API
Shopify hopes that making these libraries available in GraphQL will speed up the development process and improve the stability of Shopify's merchant aps. Read more

Shopify App CLI
Shopify App CLI is a Shopify tool that automatically generates code within a command-line interface (CLI). It allows developers to scaffold their apps in a few clicks and easily generate data on test stores, i.e. it helps developers build apps much faster. Shopify App CLI works on Mac, Windows, and Linux and is currently in open beta. Read more

Shopify App Bridge
To make app development even more seamless and give developers more flexibility, Shopify also introduced updates to Shopify App Bridge (released last year). Shopify App Bridge is a code library that allows developers to embed their apps across different platforms within Shopify (e.g. desktop, Shopify Mobile, Shopify POS, etc.)
Shopify announced the following new features that aim to help developers achieve better results:
Shopify App Bridge now uses Feature Detection which connects apps to hardware capabilities, i.e. allows apps to access cameras, barcode scanners, USB devices, etc.

Improved error reporting
API versioning and developer previews
Shopify introduced a developer preview environment, thus, giving developers the opportunity to test newly released capabilities and features in a stable environment. Many products announced at Unite 2019 (e.g. order editing, video and 3D models for product pages, selling in multiple languages, and more) are launching with APIs in developer preview. Read more

Fully translated Shopify App Store and localized app listings
In order to facilitate international growth, Shopify has invested in translating the home page and the navigation menu of the Shopify App Store into 10 languages. Shopify also announced new localization features which allow developers to submit their app listings in up to seven languages, different than English - Brazilian Portuguse, European Portuguese, French, German, Italian, Japanese, and Spanish. Read more

Wrap-up
Shopify Unite 2019 was nothing short of amazing! Kudos to the Shopify team, and all Shopify partners and developers who made it possible! Here's a wrap-up of the biggest announcements:
Shopify announced that in the coming months they will launch a new Shopify Plus, as well as make selling in multiple currencies available to all Shopify merchants. They also announced updates to the Translations APIs and support for 11 new languages. Last but not least, they announced that Shopify Payments will be available in two more countries - the Netherlands, and Denmark. All this proves that Shopify is here to support cross-border selling and empower immense international growth.

Shopify announced video and 3D models (that can be rendered in AR) for products. Thus, becoming the first ever e-commerce platform to natively support 3D and AR shopping experiences.

Shopify launched AI-powered Shopify Fulfillment Network to support SMB merchants. Thus, becoming a serious competitor to Amazon and major 3PL (third-party logistics) suppliers.

Shopify launched their next-generation Shopify POS software, their Shopify Retail Kit, and new Loyalty and Promotion POS cart app extensions.

Other powerful features that were announced at Unite include a new and improved online store design experience, updates to the custom storefront tools that allow merchants to create highly personalized shopping experiences, and improvements to the single back office experience.

Last but not least, Shopify announced new developer tools that aim to facilitate building themes and apps on top of Shopify and give developers more flexibility.
This year at Unite Shopify proved they are here to empower growth, inspire change, and leave a mark in the history of e-commerce.
We will be keeping a close eye on how everything announced at Unite develops over time. Be sure to bookmark our Blog to be the first to know about new official releases, and any changes and improvements made by Shopify. You can also follow Shopify's Developer Changelog or their Web Design and Development Blog - the content hub where the biggest Shopify launches are discussed.
We'd be happy to hear your thoughts on the groundbreaking announcements made at Unite 2019 - what do you think about the new features, the updated developer tools and the improvements to the entire platform? Which new features are you impatient to try? Let us know in the comments!